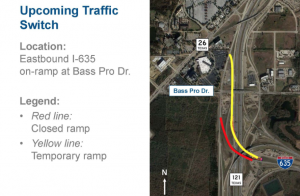 Crews will open a new bridge at Hwy 121 and I-635 this weekend as part of the ongoing DFW Connector project.
The new southbound 121 bridge to eastbound I-635 will open, and that will change the eastbound 635 on-ramp at Bass Pro Drive. See the map for the new traffic pattern, which will be changed between 8 p.m. Saturday and 6 a.m. Monday, according to the DFW Connector website.
If you want updates on this and future closures and changes around this interchange, sign up for DFW Connector text alerts by texting DFWC4 to 77222.