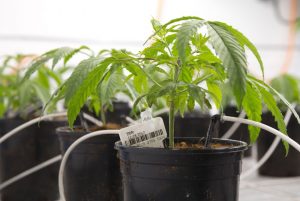 A new state law meant only to make hemp legal has caused prosecutors — including the Denton County District Attorney's office — to drop low level marijuana cases, and casts doubt on future pot cases.
Among other provisions, House Bill 1325 changed the definition of marijuana from certain parts of the cannabis plant to those parts that contain a higher level of tetrahydrocannabinol (THC), the psychoactive ingredient in marijuana that produces a high, according to the Texas Tribune. A concentration of 0.3% or less of THC is now legal.
But because of that concentration threshold, this means when a law enforcement officer arrests someone for possession of marijuana, for the case to be prosecuted, the marijuana will have to be tested to prove that it has more than 0.3% THC, said Jamie Beck, first assistant district attorney for Denton County. This step was not necessary for marijuana cases until Gov. Greg Abbott signed HB 1325 into law on June 10, and it causes problems because the DPS Crime Lab, which most agencies use for drug testing, doesn't have the equipment or staff to do marijuana testing.
"The state changed the definition, but didn't fund their own lab agency," Beck said.
Private labs can do testing, but they are expensive and the arresting agencies would have to cover each test, and many of them didn't budget for this kind of expense.
"Police departments and even the DA's office were caught off guard by this," Beck said. "We knew what the impact would be but we thought there would be more time. Most legislation changes take effect Sept. 1, but this was immediate on June 10."
The Denton County DA is not accepting any marijuana possession cases after June 10 that don't come with a corresponding lab report, Beck said. But that doesn't mean that marijuana is any less illegal, and it doesn't mean that police won't get tests done by private labs to prosecute offenders.
"It is still a crime," Beck said. "Marijuana is not legal in Denton County, and we will prosecute cases when we have evidence to go forward."
Beck said she expects the state will provide more funding for the DPS Crime Lab, and eventually, the problem will be resolved.
"They'll have to get the equipment, more staff and accreditation," Beck said. "All that takes money and time, but once it's up and running, it'll be like any other drug case."
Bartonville Police Chief Robert Dowell said he hopes the DPS will be able to test for marijuana in the next two years, because the department has two years from the date of the offense to file charges.
"If DPS gets its lab sorted out to where they are able to do tests, we'll pick them back up," Dowell said, adding that the department will still make arrests for marijuana possession.
Dowell said Beck is correct that private labs aren't a real option for his department.
"The DPS lab typically charges the testing cost back to the defendant," Dowell said. "With a private lab, it is very expensive and we would have to pay up front, instead of charging the defendant … and we haven't budgeted for that."
Northlake Police Chief Robert Crawford said the new law has had a "minimal" impact to the Northlake Police Department, which had 21 arrests involving marijuana or THC oil in 2018.
"We will still arrest for marijuana, we will just have to take a few more steps in the process, such as being more inquisitive on our roadside interviews and having a quantitative analysis performed on the suspected marijuana to determine the THC level," Crawford said. "The added testing will increase our budget, but not by a large amount.
"The Denton County Police Chiefs are working together with the District Attorney's Office to ensure we are following the laws written by the Texas Legislature and continuing to keep our communities safe."