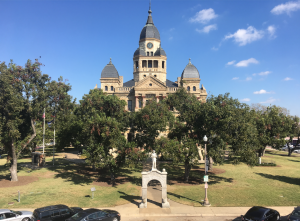 The taxable value in Denton County rose $10 billion in a year.
In a presentation to the Denton County Commissioners Court on Tuesday, Denton County Tax Assessor Michelle French said the net taxable value increased from $96.2 billion to $106.2 billion since last year, as growth and development in the area continues.
French said that with the increased assessments of properties in the county — the average residential homestead is $334,000 — the number of protests rose from about 86,000 to 95,000, it's highest number ever. She believes the increase in protests is largely because, simply put, because people are more aware of their right to protest.
French also stated for the record the calculated effective and rollback tax rates.
"The effective rate is what we need to generate the same amount of revenue this year as last year," French said. "The rollback is 8% above that, and that's the rate the Commissioners Court can approve anything between it and the effective rate without triggering an election."
The Commissioners Court took no action on these tax rates.
"It's a little early still," French said.
The county will begin its budget workshop next week, and the recommended budget will be presented to the court on Tuesday. The Commissioners Court will determine what rate it wants to propose, and then it'll be opened to public hearing before it can be approved.