Organizers are expecting the largest scheduled event in Denton County to bring 16,000 and 18,000 people to Unity Park in August.
The 32nd Annual Lions Balloon Festival in Highland Village will be held Aug. 16-18 in Unity Park.
The annual event, put together by the Highland Village Lions Club, will feature tethered balloon rides during the evenings of Aug. 16-17, and the mornings of Aug. 17-18. Balloon glows are scheduled for the evenings of Aug. 16-17.
"The balloon glows are really something to see," said Emily Rohne, festival co-chair and president of the Lions Club and foundation.
In addition to the balloons, the event will feature live music, food vendors, arts and crafts vendors and the Kids Zone, which includes the Boogie Woogie Choo Choo, bounce houses and more.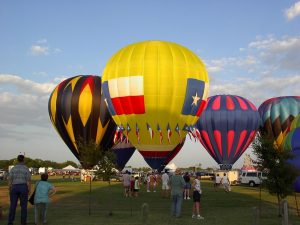 Remote parking will be at the Lewisville ISD sports fields at 2800 Dixon Lane in Flower Mound. Denton County Transit Authority buses will provide free rides to and from Unity Park from 5:30 to 10 p.m. Friday and 4:30 to 10 p.m. Saturday. A donation of $5 is requested for each parked car. There's no entry fee to get into the festival.
Two local bands will perform during the festival: Van Gogh's Ear will play Friday night, and the Ryan Glenn band will play Saturday night. The Classic Car Show, featuring a mix of modern and antique unique and interesting cars, is scheduled for 9 a.m. to 1 p.m. Saturday.
The festival has been held during this week in August for 32 years, but this is the last year it will be in August. The festival is moving to September next year because of the timing with the beginning of the school year, and because organizers are hopeful for better weather in September, Rohne said.
Click here for more information.