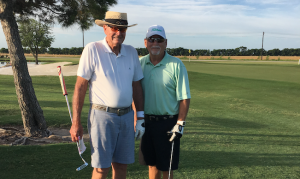 By John Burkholder
I had the great pleasure and opportunity to sit down with three Robson Ranch "featherheads" (more on that moniker later) on July 10, and talk golf, careers and life on green fairways. The three "featherheads" so gracious to meet and speak with me were Ray Hibler, Skip Van Pelt and Doyle Hicks, a founding "featherhead," who often played together and recently enjoyed another fun, competitive round.
The reason for our sit down was a mini celebration/discussion of Ray's recent 1-under round on RR's Wildhorse Golf Club course at the robust age of 88. (Ray was born on the Fourth of July, 1931, and every year since, the whole country helps celebrate his birthday!) You see, to these guys, this was nothing new or unusual for Ray, who according to Doyle, regularly shot in the high seventies-low eighties. So, upon completion of the round, when Ray casually mentioned that he thought he carded a 1-under, no one was particularly excited, except me when I heard about it. I had to meet this guy and listen to him recall the details of shooting a round 17 strokes UNDER his age! You see, here at "the Ranch", an "active adult community" (read that, old farts) it's the goal of most every golfer to shoot their age. We'd be kidding ourselves to wish for better than that!
What I heard that day was humorous and inspiring at the same time. The round, as Ray, Doyle and Skip described it, was one of a good guy just having his usual fun-in-the-sun day on the links. But let's start at the beginning.
Ray spent his early, before-golf-life in the Army. He then transitioned from teaching, to coaching, to a job with Farah, the sports clothing manufacturer, then to golf rating courses for Golf Digest and later 12 years with Nike Golf. Actually, Ray's first job in golf was as a tree trimmer on a local golf course where he met some pretty good golfers and eventually golf mentors. But that's way too much detail. Let's just say Ray grew up in Texas around golf but not actually playing it.
Once Ray tried his hand at the game it seemed a perfect skills match to his early sports loves of baseball and basketball; at least the same hand-eye coordination skill. Combine that with strong-minded concentration and a lot of hard work and you have the makings of an excellent golfer. As a matter of fact, during our fun conversation Doyle speculated that there are not likely more than a handful of players in the whole US would could shoot 16 under their age, most pros included. So, needless to say, Ray is hooked on golf.
Now back to the "featherheads" moniker. Per Doyle, the name came about quite naturally within their group of accomplished golfers pushing each other to "shoot for the feathers." You know, the two scores most of us RR golfers just dream of… birdies and eagles.   Get it, featherheads? Anyway, Ray said that he was blessed to have been asked to join this established and selective group of serious golfers which numbers around 40. This gang of golfers, hatched (excuse the pun) because the "friendly stakes" among their previous golf play-pals were getting out of control and winning too concentrated among just a small number of players. So hasta la vista baby, on to greener fairways, so to speak. (another lame pun, I know.) The rest is RR "featherhead" history.
One of the best stories Ray shared with the group during our short visit explained why he never throws his clubs. Actually, he did once, after hitting a poor wedge shot. Dissatisfied with his shot, Ray simply tossed his Hogan wedge toward his golf bag. Unfortunately, the wedge hit in such a way that the shaft kinked and broke. Somehow, the Hogan Golf company heard of this incident and sent Ray a new wedge with a kindly note attached, "not to be thrown, simply use for hitting golf shots," or something to that effect. There were other fun and funny stories replayed among these "featherheads" but I think you get the point. They play golf for their love of the game, not the glory that comes with it.