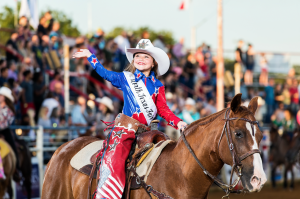 The 91st annual North Texas Fair and Rodeo will bring lots of live country music to Denton next month.
The event, which will take place Aug. 16-24 at 2217 North Carroll Blvd., will kick off with Parker McCollum appearing live on the Budweiser stage, and the country music will continue throughout the week with artists such as Easton Corbin, La Zenda Norteña, Jake Hooker & The Outsiders, Ned LeDoux, Kody West, Flatland Cavalry, Josh Ward, Pat Green and Tracy Lawrence.
Each year, the event is focused on the importance of family fun, tradition and creating lasting memories.
"We continue to support youth, agriculture and community," said Glenn Carlton, Executive Director of the NTFR. "We strive every year to make this event better than the year before. We want to bring you fun and excitement for the whole family," Carlton said. To do this, the NTFR hosts musical talent, professional and youth rodeos, livestock exhibitions, a premier midway, and special entertainment attractions.
Last year the NTFR saw the return of Swifty Swine after a 27 year hiatus from the fair. This year the diving and racing pigs are back to continue the excitement for new and veteran fairgoers alike, according to a news release. The NTFR is also bringing in Jason D'Vaude, a self-taught one-man circus sensation.
The NTFR is a non-profit dedicated to the preservation of western heritage. All revenue is reinvested into programs, scholarships and facilities. The NTFR contributes around $500,000 each year to youth in the area, according to the news release. According to the Center of Economic Development at the University of North Texas, the NTFR and its facilities have a $11 million economic impact in Denton County and an approximate $6 million impact on the city of Denton.
For more information or to purchase tickets, visit ntfair.com.