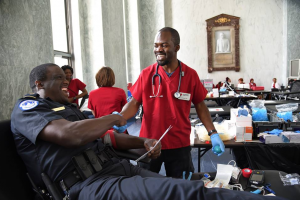 The American Red Cross issued a blood shortage emergency on Tuesday, asking eligible donors of all blood types to give now after a busy Independence Day week.
There will be lots of blood donation opportunities in North Texas over the next few weeks, including a couple in southern Denton County.
On Saturday, July 13, a donation event will be held from 9 a.m. to 3 p.m. at Trinity Presbyterian Church, 5500 Morriss Road, and on Sunday, July 14, another one will be held at The Shops at Highland Village from 11 a.m. to 5 p.m.
Click here for more information or call 1-800-RED-CROSS.