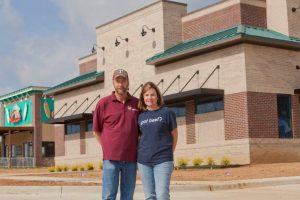 This past May, the iconic Old Town Market in Lewisville celebrated its 42nd anniversary. On Saturday, July 13, it will close its doors for the last time.
No need to panic.
Two weeks later, the doors of the new Old Town Market location on Chinn Chapel in Double Oak will open.
"It'll take two weeks to move the refrigeration units, our 26-foot cases and all the other features our customers have been familiar with for 42 years," said co-owner Sharon Knowles. "The majority of our customers live out that way and everyone at the town– we spoke with Mayor Donnelly and all– and the church [the neighboring Crossroads Bible Church]– made our decision to move easier."
Sharon and her husband, Shawn Knowles, have owned the market at 301 S. Mill Street in Old Town Lewisville, since October 2009.
Old Town Market was started by Shawn's father, Bob Knowles, and fellow businessman Dickie Grant in 1977.
Knowles and his family originally moved to Lewisville in 1967. Bob Knowles worked with Grant at Bill's Meat Market. Grant said the two decided that if they could run a meat market for someone else, they could run their own business.
Shawn and Sharon both attended Lewisville schools. Shawn was raised in the Old Town Market.
"I learned the business when I was a kid, working alongside Dickie and my father, Bob," Shawn said, "I would come here after school and clean the place. My vision for the business is to continue on the way Dickie and my dad opened it."
That vision is why the couple is taking everything from the Lewisville store with them to Double Oak. The Old Town Market offers a family tradition of experienced butchers and friendly customer service.
"The only difference people will notice is that the cutting will be done in a cold room," said Sharon. "But, people can still watch through a big window. Our customers get to come into the market and see the same employees over and over."
That ability to watch Shawn and the other butchers perform their cutting art is a big draw. In 2017, Shawn placed second in the Texas Beef Council's "Best Butcher in Texas Competition," sponsored by Beef Loving Texans.
"In 2018, we cut 50,900 filets," said Sharon. "And, 2,000 of those were on back-orders. So far this year, it's at 29,000 already."
The Market offers not only freshly-cut beef, but also pork, poultry and shop-made sausages and jerky.
Customers can choose from three freezer packs (15-, 20-, and 30-pounds) that include pork chicks, split chicken breast, hamburger, beef cutlets, smoked sausage, chopped sirloin, plus more. Old Town also offers East Texas Style Hot Links, Italian Sausage, Boudin, Bratwurst, among others.
The Old Town Market's famous BBQ has been featured on the Food Network with Bobby Flay.
It also has a wide selection of seasonings to go with each order. A customer can select a seasoning individually to have meats seasoned at the time of sale. One of the most popular seasonings is the Famous Rub, an all-purpose choice that blends black pepper, garlic, kosher salt, a roast beef base and other ingredients.
Other rub flavors include the aloha, bourbon, cherry, jalapeno, plus many more.
Sharon said she and Shawn expect the new location will definitely increase their business.
"We will be hiring new employees, probably up to three butchers," said Sharon. "We plan to concentrate on our fresh meat, which means we'll no longer be serving lunch. But, we'll still have meals-to-go that people can take home to warm-up."
Catering is available (with ample notice), with selections of ribs, brisket, sausage, ham, turkey breast, chicken, then pair them with cowboy beans, potato salad, cole slaw, cobblers or banana pudding.
In addition to opening its new Double Oak location, the Old Town Market plans to offer new items as well.
"It'll be trial and error," said Sharon. "Like, we now offer Amish Butter."
What?
Authentic Amish butter is produced in or near historically Amish communities in Ohio, Wisconsin, and Pennsylvania. Some brands, like Minerva Dairy– America's oldest family-owned creamery– produce it with a high (~85-percent) butterfat content that rivals European (such as Irish) butters. Regular U.S. butter typically contains 80-percent butterfat.
The higher butterfat results in a creamier, richer product with more flavor than average butter; plus it comes in a parchment paper wrapped roll.
At Thanksgiving and Christmas, traditional favorites– standing rib roast, beef tenderloins, smoked turkeys and dried cured bone-in hams– are also featured.
"If you're going to buy something from us, be sure to ask for recipes on how to cook it for the best taste," added Sharon.
Their website, oldtownmeatmarket.com has links for the popular recipes: Pepper Crusted Beef Tenderloin with Horseradish Sauce; Prime Rib Seasoned Roast with "Famous Rub" and Cowboy Beans Recipe, which was featured on the Food Network.
As Sharon Knowles says, "We want to be people's personal butcher."
Tentative hours at the new location on Chinn Chapel, next to the Rapid Med at the intersection with Justin Road (FM 407) will be 10 a.m. to 6 p.m. from Tuesday to Friday; and, 10 a.m. to 5 p.m. on Saturdays. The Old Town Market is closed on Sunday and Monday.