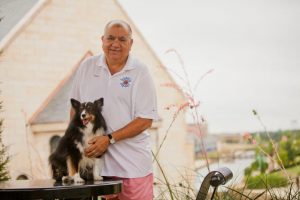 The Flower Mound Town Secretary takes many meeting minutes; and, describes participants as Mayor or Councilman or Citizen So-And-So. That's how Paul P. Stone– now a resident of Flower Mound's new River Walk neighborhood– became "Citizen Stone."
"I'm an activist for good local governance," said Stone. "Flower Mound is in great financial shape with a Triple-A bond rating, a steady tax rate and a good master plan."
What could be better than that? The Answer, according to Stone, is citizens who participate in local government.
"Our daily lives are most meaningfully affected by what goes on in local government and that's the easiest place for everyone to be part of the action," said Stone.
He definitely qualifies as an energetic and enthusiastic town cheerleader, even if he doesn't speak with a Texas twang. If you listen to him, then guess somewhere in New York, you're right. Glen Cove, Long Island is where he was born and grew up.
He learned the meaning of active citizenship from his father who, for many years, owned a Long Island, New York, weekly newspaper called The Spotlight.
"By the time I was eight, he had me deliver papers" he said. "Dad also gave me a shoeshine kit to use when I hung out at city hall. Most of the people there polished their own shoes, but in the late 1950s, I was a quaint reminder of changing times."
By the age of 16, Stone discovered he was a gifted number cruncher. As luck would have it, he bumped into a copy of the proposed city budget. Intrigued, he noticed an arithmetic error and decided to point it out at the upcoming public hearing.
"That was my personal introduction to citizen input for local governance," and he says it was a thrill to be taken seriously by grownups in positions of power.
American's cultural landscape changed a lot during Stone's teen years– the 1960s decade.
"I waged war to be on my high school's Student Council and I made a good faith effort to look like a with-it rock'n'roller," Stone remembers.
Woodstock might be THE iconic youth event of the 1960s, but do you know anybody who actually attended the one and only mud and music fest?
Paul Stone was there in person: "I can't remember much about it," he said with a wry laugh.
Then, to demonstrate life's about-face possibilities, in 1972 he accompanied Dad Stone to the Republican National Convention that re-nominated Richard Nixon in Miami, Florida.
"My Dad was a consultant to the RNC that year," he said.
"At the convention, I actually met Gerald Ford and Bob Dole in person," he said.
However, the most important person Stone met in Miami was a speechwriter, who later helped him land a temporary job running the Press Room at the new Department of Energy in Washington, D.C.
"I actually worked for Bill Simon the Energy Czar," he said. "I was 23 at the time I got the job, and my father had just enquired about when I planned to leave home. The truth is, I'd been wondering the same thing."
He left New York for the new job in the nation's capital with high expectations–and big plans for a triumphant return to Long Island to impress the folks by being elected Mayor of Glen Cove, his hometown.
Instead, he proved the saying that life is what happens while you're making other plans. He passed the Civil Service Exam and started a 33-year career as a Federal employee.
Meanwhile, his father had relocated to North Texas and eventually opened an office supply company in Addison.
"This was back before the big-box office supply stores," said Stone.
He joined the family venture and lived in Dallas' northern suburbs.
After the company was sold, he went to work for the U.S. Small Business Administration– working with the U.S. Army Corps of Engineers– as a Small Business Contracting Advocate. In 1990, he became a Flower Mound resident.
"Flower Mound was a rural place back then," he said.
He dove into being an active part of the community by joining the Summit Club, the Chamber of Commerce and the Friends of the Library board, to name only a few of his dizzying list of downtime activities.
Since 1991, he has served on– and sometimes led– at least 10 local government boards, committees, councils and commissions, in addition to having served two terms as a Town Councilman.
Does he have any leisure pursuits? "Well, government."
Now he's retired, so, "I sleep late and that's wonderful."
He mentors a 5th grade student through CISNT (Communities In Schools in North Texas). He admits to bike riding with friends who are also out of the workforce, "And I go to yoga sessions at the Senior Center."
Best of all, Stone is the adoptive "Dad" of Shasta, a 22-pound, 15-year-old Sheltie– that belonged to a close lady friend, who passed away awhile back.
Is it a surprise the 68-year-old Stone decided to run for Mayor in the last election?
Yes and No.
"I hadn't been thinking of it, but only one candidate had tossed his hat into the ring," said Stone. "I asked myself, 'what kind of election would that be'? This is America, right? I came up with a budget and a three-plank platform, then decided to run."
His ideas are straightforward: the Mayor should facilitate the established processes to move city projects forward; should be ethical and accessible, as opposed to self-serving; and, should be a guardian of transparent local government.
"To make things happen ideally, the Mayor leads, presides and empowers," he said. "And, citizens are willing to participate. These are the basics of local government."
Stone walked the walk; he was not an attack-dog politician.
"I am opposed to negative campaigning," he said. "My opponent was a good man."
Eventually, another person entered the race; and, after the ballots were counted, he came in third. He was satisfied. He had helped make local government work.
Besides being a Flower Mound Rotary Citizen of the Year, in 2011 he won the Society of American Military Engineers' Small Business Advocate Award for his work steering pieces of large U.S. Army Corps of Engineers projects to capable, local, small enterprises. Three years ago, he received a Summit Service Recognition Award for his work as a Liaison Officer with the DFW Small Business Council.
"For years, my personal hero was comedian Jerry Lewis," confided Stone. "Not only was he hysterically funny, the man was generous."
Currently, he is an active follower of Trophy Club resident Chris Bailey, father of the "Everybody Love Everybody" movement.
"That's the solution to all the world's problem, don't you think?" He's serious and, to that end, has a large red-white-and-blue "Everybody Love Everybody" magnetic poster on the tailgate of his truck. If you see him in traffic, honk!
Contact the writer at [email protected]