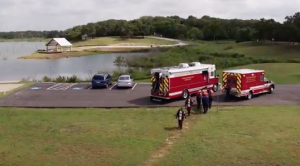 A 17-year-old died Thursday from drowning in Lake Grapevine.
Dive team members from the Grapevine and Flower Mound fire departments recovered the Dallas teenager who went missing in the lake on Independence Day, according to CBS 11.
The teenager was swimming in the lake with family and friends off the shore at Rockledge Park, on the east side of the lake in Grapevine, when he went underwater. He was found and pulled out from the water after about an hour, FOX 4 reported. He was rushed to the hospital, where he died.
The Grapevine Fire Department soon confirmed the drowning.
The Tarrant County Medical Examiner's office identified the victim as Alberto Santos of Dallas.
Rockledge Park has been closed for the day, according to the city of Grapevine.
Also on Thursday afternoon, an 8-year-old boy drowned in Lavon Lake, located east of McKinney and Plano, according to NBC 5.
The Grapevine Fire Department urged anyone who will be spending time at a lake to "please be safe and by all means, wear a life jacket."