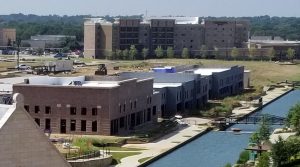 During the Flower Mound Planning and Zoning meeting on June 24, Lexin Murphy, director of Planning Services, presented some development updates to commissioners.
The River Walk update included the chapel, reception hall and splash pad construction, as well as a surprise about the participating restaurants.
Finish-out permits have been applied for by Pizzeria Ascoli, FloMo's Burgers, Nate Champion's Prime Steak and Chop House, Cuvée Wine Bar and River Social, which were announced this past September by developer Centurion American.
In addition, Los Caminos has a finish-out permit currently in process. It will join the eatery-line-up previously announced; Primo's Tex-Mex Grille appears no longer to be a potential tenant.
Restaurant row is comprised of three separate buildings along the canal connected with covered walkways plus featuring a separate restroom building in addition to each restaurant's individual facilities.
4100 River Walk (Bldg 1): Nate Champion's Prime Steak and Chop House and Cuvée Wine Bar (together in one space)
4110 River Walk (Bldg 2):
Suite 110: River Social
Suite 150: Pizzeria Ascoli
4120 River Walk (Bldg 3)
Suite 110: Los Caminos
Suite 150: FloMo's Burgers