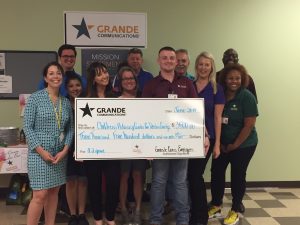 Grande Communications, the Texas-based broadband communications company, recently presented a check for $3,500 to Amy Ferdinando the Director of Development at Children's Advocacy Center for Denton County.
The donation is part of Grande's employee philanthropy club, Grande Cares, where employees seek to enhance the communities that provides service to the area of where they live, work and play. The mission of Children's Advocacy Center for Denton County is to empower child abuse victims, their families, and the community through education, healing, and justice. The grant will assist in their efforts are to break the cycle of child abuse by educating families and the community to proactively protect children, according to a news release.
Since the founding of Grande Cares in 2000, they have awarded more than $3 million in grants, donated thousands of holiday gifts and collected tons of food for pantries across Texas.