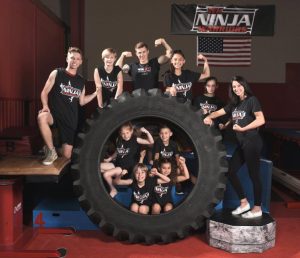 The popularity of American Ninja Warriors can be traced back to several television programs based on amateur athletic competitions. The popular "American Gladiators" debut in 1989 was followed by a Japanese sports entertainment competition called "Sasuke," which was launched in 1997 and re-branded in the US as the "American Ninja Challenge" in 2006.
In 2009, NBC Television and G4 launched "American Ninja Warriors." Today it has millions of followers.
The objective of ninja warrior competitions is simple: maneuver through an obstacle-laden course faster than your opponent.
As a result of the show's popularity, backyard obstacle courses and "Ninja gyms" are springing up across the nation as fans of the show get up off their couches and start to explore Ninja training.
Now, area residents of all ages can tap into their inner ninja warrior right here in southern Denton County.
Win Kids Sports and Learning Center in Flower Mound has been inspired to build a brand-new Extreme Ninja Warrior Training Center for all experience levels. It is the very first world-class Ninja Training Center in the Flower Mound and Lewisville area.
"I've seen children building tremendous strength and confidence through Ninja Warrior Training," said Michael Winburn, founder and owner of Win Kids.
WK Ninja Warriors is a fun, high-energy obstacle course program for boys and girls that teaches discipline and focus, as well as coordination for all sports.
"Ninja Warrior Training prepares child athletes for any and all sports with strength, coordination, speed, flexibility and confidence," added Winburn. "Ninja training classes are designed to develop strength, determination and endurance, not to mention lots of fun."
It safely combines a variety of athletic and gymnastics movements like running, jumping, climbing, swinging, tumbling, vaulting and flipping into a fluid and creative motion that builds speed and strength, while increasing coordination and self-confidence.
"The adaptation of Ninja Warriors to children is relatively new," said Winburn. "It has proved to be very popular, fun and very developmentally appropriate for children ages 3–16. Kids just love this program!"
The new Ninja Warrior Center has been designed exclusively for WK Ninja Warriors to train ninja athletes– from beginner- to advanced-level– on their path to reach their full athletic potential.
"I've been teaching children's sports for the last 38 years and I can confidently say that Ninja Warriors is so good for boys and girls, that it might be the best activity I've ever seen to helping kids develop fitness while having tons of fun," said Winburn. "We have one 10-year-old student already auditioning for American Ninja Warrior Junior."
The state-of-the-art center is youth-centered and fully padded for safety with several levels and thicknesses of the best safety padding available anywhere.
It features two 80-foot-long ninja lanes with: ziplines; floating bridges; salmon ladder; cargo net swing; spider wall; cliff hanger; and launch trampolines.
The Ninja Training Center also includes a full-size safety landing pit, hotbed trampoline, triple height warped wall and a custom-built rock wall to bring the challenge to all ages.
"I'm truly a coach at heart and myself and all of the Win Kids coaches are very proud and excited to bring this unique program to Flower Mound," said Winburn.
The new Ninja Center will open mid-August for: Lil Ninjas, ages 3-5; Grade School Ninjas, ages 6-12; and, teens to adults, ages 13-19.
Win Kids Sports and Learning Center was founded in March 1998 by Winburn. The 27,000-square-foot children's sports and activity complex sits off FM 2499 on six-acres and offers classes, camps and children's birthday parties.
Win Kids generates more than $2 million in annual revenue, serving approximately 1,900 students per week.
A schedule, full information and registration information for summer programs and camps is now available at www.winkids.net or call 972-355-9988.