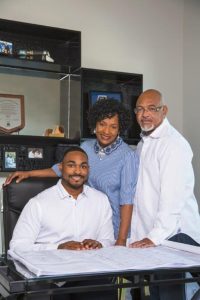 Friends thought Reginald Rembert, Sr. was crazy, when he took the money from the 401K account he accumulated during 15 years with Texas Instruments and invested it in five-acres of land across from Flower Mound's Parker Square.
When the four lots– at what was named the Rembert Addition– turned into three sales and the first custom-built home, they quickly changed their minds.
That was more than two-decades ago. Since then, Reginald, Sr. and his wife, Ida, have developed and built custom single family homes for residents in eight other communities in Flower Mound, two in Corinth, two in Lewisville and one in Frisco.
After the success of the Rembert Addition, the company's next residential development was Brittian Estates in Lewisville, which featured 16-lots and the first big 7.500 square-foot custom home.
Developments include Diamond Belle Estates, across from Flower Mound High School, plus Flower Mound Woods, near Bridlewood, followed; the latter of which was sold to Toll Brothers.
"That's when we started forming developer relationships," Reginald, Sr. said. "We saw the custom home building market was starting to thin out, because some of the big-volume builders were moving up on price, so we started focusing more on development, rather than custom homes. Our primary focus was continuing to build developer-relationships with national builders like Toll Brothers, Darling Homes, First Texas Homes and Gehan Homes."
When the couple's only child, Reggie, joined them last year, this created a true family-centered business and a dream come true for the Remberts.
Reggie's training and education– as a 2011 United States Air Force Academy graduate with eight years of active duty as a program/project manager– made it easy for him to transition to the family business, both in residential development and custom home building.
"We were pretty satisfied with developing and passing lots off to national builders," Ida said. "We were talking to Reggie, who said, 'you are leaving too much money on the table. I'm coming home. I'm going to help, so let's keep developing and return to building custom homes.' That's what prompted us to build the homes in our newest development ourselves."
"I can take some stress off of them," said Reggie. "And, now that I'm here we can take on a lot more."
Reggie graduated from Flower Mound High School in 2006 and was an All-American cornerback for the Air Force Academy football team.
After participating in a rookie minicamp with the Chicago Bears, his military obligations took him away from football, though he served as a graduate assistant at the Academy his first year.
He then served three years as an officer at Hanscom Air Force Base, near Boston, then two years at Los Angeles Air Force Base.
After switching from the regular Air Force, to the reserves as a Captain last year, Reggie came home to join the family business fulltime. Hopefully, his presence will allow his parents to dial-back a bit.
"I've always had a desire to work with my Dad and Mom doing what they do," he said. "So I came back and I'm loving it."
It was a natural fit for Reggie, though– rather than working on $1 billion satellites– he's working on $700,000 and above custom homes and multi-million dollar developments with his parents.
Rembert's newest development, Hillside Flower Mound, is located across FM 1171 from Cristina's on the town's west side. It is being developed in partnership with 4T8 Investment Group, owned by former Major League Baseball player Torii Hunter and wife Katrina.
Hillside Flower Mound features Rembert Custom Builders' first model home. All homes constructed previously were pre-sold.
"Flower Mound is one of the hottest community's going," said Reginald, who has lived there since moving from Alabama in 1982. "Of the 27 lots, we've sold five and are currently designing architectural plans to start building homes. We hope to be completely done within 30-months."
The Remberts also are currently working on a new Flower Mound community called Tinley Park, named after their first granddaughter (Hope Tinley) and Reggie's first child with wife, Danita. The couple recently welcomed second daughter, Grace Pearl, in mid-June.
Reginald, Sr. has been honored as a life director of the Dallas Builders Association and served as president of the organization's Denton chapter. Rembert Custom Builders also has been listed as D-Home Magazine's Best Homebuilders in 2011 and 2012 and have received several Star, Vesta and ARC Awards, most recently receiving four out of five ARC Awards in 2018.
No matter the honors or success, devotion to building quality homes and developing luxury communities in Flower Mound will always be their first priority.
"We love working here and living here," Reginald said.