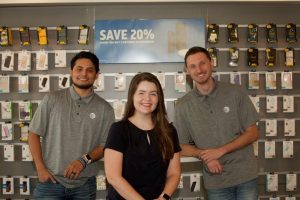 Step into the AT&T store in the Lantana Town Center today and you immediately notice something different.
Although it has been open since 2016, under new management, there's an energetic vibe coming from manager Lane Scheile; and, sales specialists Karlo Huerta and Brianna Polk. Most likely it's because Scheile and Huerta are only 24-years-old, while Polk is just 21.
Scheile took over in late April and Huerta– who is fluent in Spanish– came on-board in May, while Polk has helped customers since the doors opened. People may be familiar with Scheile, since he previously worked in Flower Mound and his parents live in Argyle.
He and his team do their best to educate and help customers with the entire suite of AT&T products, including: cellular phones; AT&T Internet and U-Verse and DIRECTV; pre-paid services; and, accessories. They can also set up phones and transfer contacts.
They also have live models of the devices on-site, so customers can touch it, feel it and have it in their hands.
"It's easy to talk to people and I pride myself on having the best customer service," Scheile said. "I try to bring a competitive attitude.
"Everyone is here to enjoy their job, make it playful and fun. As long as everybody is happy at the end of the day and people leave the store happy, I'm a happy guy."
Since new management took over, more in-store inventory has been added, plus hours have been expanded, including: Sundays from noon to 5 p.m.; and Saturdays until 6 p.m.
The store offers Lantana residents a 15-percent discount on accessories; military and first responders receive 25-percent off rate plans.
Visit AT&T Bartonville at 3012 FM 407 E, Suite 100, Bartonville, TX 76226 or call 940-241-1515.