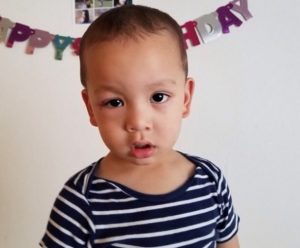 A missing 2-year-old Denton boy was found dead Wednesday morning in a parked vehicle near his home.
On Tuesday afternoon, Denton police posted pictures on social media of little Sarbesh Gurung, asking residents to be on the lookout for the missing boy.
Denton Police Chief Frank Dixon said the boy's mother told them that she put him down for a nap, and when she went to check on him around 2 p.m., he was gone. She searched for him for about four minutes before calling 911.
Police officers, volunteers, K-9 officers, drones and a helicopter were all used to search in the area around the 2400 block of West Prairie Street, where the family lives. It wasn't until after 6 a.m. Wednesday that his body was found in the backseat of a vehicle, parked in the lot outside the family's apartment complex near the University of North Texas. In a news conference Wednesday morning, Dixon said the boy had no obvious signs of trauma.
"This is obviously not the conclusion we were hoping for," Dixon said. "We held out hope against all odds that we were going to find Sarbesh … Unfortunately, that is not what happened in this case."
The owners of the SUV discovered the body when they were leaving, Dixon said. The vehicle's windows were dark and it had a sun shade and a shade for children, which made it impossible to see inside. Dixon said police don't know if the vehicle was locked. He did not say if the vehicle had been searched before the boy's body was found.
"This is not a time to point fingers or assign blame, because we're all heartbroken," Dixon said Wednesday.
Dixon said the boy's mother is receiving medical treatment after having a "panic attack when she was notified."
Dixon said police still have many unanswered questions, and the Denton PD Major Crimes Unit will continue to investigate the boy's death as an apparent accident.
"We have nothing that leads us to believe that this was an intentional act of homicide," Dixon said.