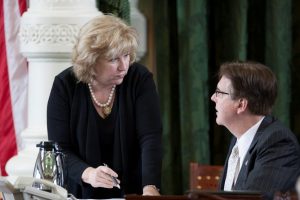 Several bills authored by Texas State Senator Jane Nelson, R-Flower Mound, that streamline state government and improve transparency have been signed into law by Governor Greg Abbott. These bills will take effect on Sept. 1, 2019.
Below is an overview of Nelson's "good government" bill package, according to her office:
Contracting Reform: SB 65 responds to the continued failure of state agencies to follow laws and procedures on state contracting. It enhances oversight of risky procurements, strengthens scoring guidelines, and bolsters vendor performance tracking. "Despite repeated legislative intervention, we continue to see breakdowns in contracting across state government. This cannot continue. My reform bill will ensure agencies are held accountable and that the state is receiving the best possible services at the appropriate cost to taxpayers," Senator Nelson said.
Obsolete Reports: SB 241 eliminates and streamlines agency reports that no longer serve their intended purpose or are redundant of other reporting requirements. "Through this bill we will ensure that state resources can be focused on current priorities rather than the production of obsolete reports at the expense of taxpayers," said Senator Nelson.
Special District Transparency: SB 239 provides better access to open meetings for residents who live in special districts, including Municipal Utility Districts, Fresh Water Supply Districts, or Water Control and Improvement Districts. This bill requires special districts with population of over 500 residents to hold board meetings near or within the districts' boundaries and make audio recordings of board meetings dealing with setting tax rates available online. "Special districts have the authority to levy property taxes and assessments on property and then budget that money much like other governmental entities," said Senator Nelson. "Residents of these districts should be given the same access to these meetings that they have to city, county, and state government."
Municipal Management District Reform: HB 304, sponsored by Senator Nelson, updates Municipal Management District (MMD) statutes to modify the composition and selection of an MMD board, the process for creating and dissolving a special district, and the administration of projects that benefit the district. "It is important that every Texan is accounted for and that they are represented in their local government," said Senator Nelson. "Additionally, this bill takes steps to improve government transparency by ensuring we hold our Municipal Management Districts accountable."
Local Government Info Online: HB 305 improves government transparency by requiring local taxing entities to provide the contact, meeting, and elections information on their publicly accessible website. "Texans increasingly turn to the internet to access a wide variety of information, and this is common sense legislation to help citizens navigate their local government," said Senator Nelson.