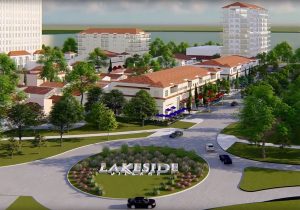 Perhaps the only thing less understood than a TIRZ (Tax Increment Reimbursement Zone) is Frankenstein's monster.
Both are only hoping to be understood and accepted for what they actually are– the TIRZ as a creator of many projects within one development and the monster as the product of many different pieces. Both need proper education to be understood and accepted.
Unfortunately, in the case of the TIRZ#2 for the Lakeside Village development, it got put onstage in front of an uninformed and prejudiced audience– much like Mel Brooks' Young Frankenstein movie monster, to perform "Puttin' On The Ritz," who was pelted with eggs and vegetables by hostile audience members.
Well, when TIRZ was dragged out before Town Council for discussion during the June 21 planning session, it became painfully clear that some of the members had either no factual knowledge of what a TIRZ is and what it does, or a misguided prejudice against its process. Verbal eggs and vegetables were thrown at the TIRZ.
"We were disappointed about what happened in the work session," said Richard Myers, managing director of Realty Capital, the developer of the 35-acre, $1.5 billion mixed-use Lakeside Village development located to the south of Lakeside DFW on Lake Grapevine.
"The developer wanted to be able to explain their private market side of this," said Andrea Roy, Flower Mound's economic development director. "Their intent was to meet with the new members, but it hasn't happened."
"I asked Andrea [Roy] to bring this up, because it's a 'dangling thing' out there," said Mayor Steve Dixon. "We're on pause here. We need to give staff direction on this topic."
Apparently, politics, like "show biz," is also a matter of timing.
"We are just starting the outreach to them [the council members]," said Myers. "We were planning on talking to them this summer, after they'd had a chance to settle-in after the May election."
So much for timing.
A TIRZ (Tax Increment Reimbursement Zone) is a geographically-defined area where future property tax revenue is reinvested back into the area to promote private investment.
"We think a TIRZ is a useful tool to accelerate and enhance many projects," he added. "From over 25 citizen meetings, what the citizens have been telling us is what they wanted was restaurants on the lake. We're to that point in the project and, in order to do that, we think we need to build public parking garages down there. They're very expensive; the economics don't work usually. They'll be public, with no charge, so using them costs nothing, but they'll allow us to attract perhaps at least three of the six total restaurants and even a hotel."
Which introduces the major misunderstanding about a TIRZ– the reimbursed taxes. The fact– yes, fact– is that the taxes involved are not existing taxes; not one penny of existing tax is involved– none.
"People mistakenly think of it as a handout and it's not at all," said Myers. "What we're trying to fund are actually public facilities, using taxes only from new property owners' taxes; not what's in existence."
During the planning meeting, council member Jim Pierson revealed his incorrect opinion of what a TIRZ is– and how it operates– by announcing he won't underwrite (advance) tax money to developers' projects.
"I cannot in good conscience underwrite a developer's investment in Flower Mound," he announced. "And, to me that's what a TIRZ does. We're providing them with cash, money, however you want to phrase it. A developer should come in here and be wholly sold on our community and willing to make the investment to get the return for their investors. They should not be coming in here and asking us to underwrite part of that."
Dixon and Roy attempted to correct Pierson's misunderstanding of a TIRZ.
"The developer, not the town, will advance funds for projects and is then reimbursed from those new available [property] tax increment revenues," explained Roy, referring to the fact that reimbursement is the "R" in TIRZ.
The Jan. 31, 2019 feasibility study to council showed approximately $71-$140 million in estimated revenue return from the $25 million being requested through the TIRZ #2 to expedite the public infrastructure in the Lakeside Village development.
On March 4, 2019, the council approved Phase II of Hawes Hill Consulting Services Agreement for the creation of a TIRZ. The TIRZ #2 document creation has been completed.
Roy said the TIRZ revenue at complete buildout would generate $139.2 million in cumulative ad valorem tax revenue by 2038 for the town and Tarrant County. Of that, the town would get $90.2 million and the county would get $49 million.
"I don't see any value in terms of the town," said Mayor Pro Tem Sandeep Sharma repeating his long-held confusing opinion. "I don't see any value in continuing this. My opinion is to cut that dangling cord."
Responding to Sharma's interpretation of facts, was Deputy Mayor Pro Tem and long-time developer Claudio Forest.
"Looking at a $25 million investment to possibly expedite somewhere in the area of $100 million … to me it makes sense in helping move this project forward faster and getting it done before there is some downturn in the economy," he said. "Will the developer move forward? They probably will. They have a unique piece of property. But, they'll move forward at a much slower pace than what we'd like to see."
"If there's no TIRZ, we're still going to try to develop the project– we're not just going to give up," said Myers. "It most likely will go slower. If there're no parking garages for the restaurants, then there's less retail development, which makes it less attractive for a hotel and office tenants; they don't want to be all by themselves."
How any new property tax revenue will be generated for the town, if the developer doesn't build those new properties, remains the unanswered question for the illogical interpretation of a TIRZ.
"Ultimately, it (Lakeside Village) will generate way less money for the town," said Myers. "In 20 years, the town missed the new property tax revenues from a 200-unit hotel, because the hotel only built 125-rooms. Those 75-rooms are lost forever; they won't get re-built."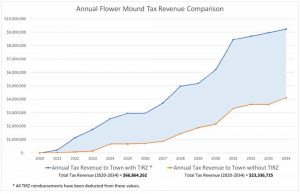 A graph to illustrate the monetary impact– both with and without a TIRZ– on revenue to the town reveals the contrast.
The blue line (tax revenue with TIRZ) has a greater upward slope, as the project can be built quicker. The TIRZ will help fund underground public parking garages that will serve the restaurants, hotel and public amenities, allowing them to be built in the beginning of the project, at their highest values.
After deducting the TIRZ reimbursements from the values, there is a vast difference between the total tax revenue to the town between 2020-2034 (and beyond). Without the TIRZ, the projects will be built more conservatively (at a lower value) as the timing of the restaurants/retail is unknown. The discrepancy in total build-out value will never change and the Town will never be able to receive the additional new property tax revenue that would have been created with the TIRZ.
"I'm torn on this," said Council Member Jim Engel. "It provides a kick-start to this development, so we can collect the taxes, but how can we insure that we're getting our 'bang for the buck;' look at the Tower." (Referring to the Lakeside Tower under construction for three-years and is still unoccupied.)
"A site as wonderful as this, is always going to attract residential buyers," said Myers. "I don't understand their point. We've been successful with attracting buyers from around the country and elsewhere. We just sold one unit last week and one today (June 26). In spite of the construction being behind schedule, there're interested buyers to be in that building. Those are the property owners that will be paying the taxes for the TIRZ."
For his part, Council Member Ben Bumgarner said he's a "fair market guy," but said to "cut the cord." So, rather than paying the known price for materials and labor at today's rates, he's willing to gamble on future costs for the same items.