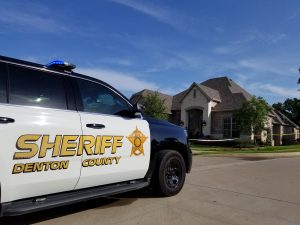 A 61-year-old man who threatened a Lantana family was fatally shot by Denton County Sheriff's deputies on Saturday morning.
Deputies responded to a domestic disturbance in the 600 block of Boswell Crossing in the Bellaire subdivision around 7 a.m., according to Denton County Sheriff Tracy Murphree.
The 911 caller advised that an armed individual with a violent and drug history had forced his way inside the residence and was threatening the homeowners.  There were three people in the house at the time.
"This individual had a history with a family member of the house and was looking for that family member," said Murphree.  "There was indication that he had some violence in his past."
Two deputies arrived and made entry to the home when the suspect raised a shotgun and pointed it in their direction. Officers fired and killed the suspect at the scene. No one else was injured.
"Both deputies fired their weapons. The investigation will determine how many shots were fired. At this time, I don't know if the suspect even fired," said Murphree.
Murphree did not release the suspect's name, but said he was a white male and a resident of Fate, TX in Rockwall County, east of Dallas.
The Texas Rangers are investigating the incident.
"Both these deputies have about 4 to 5 years experience a piece.  In my opinion they did what they were paid to do. It's unfortunate.  Anytime there is a loss of life, I hate it," said Murphree. " I'm thankful the residents are safe and our officers are safe."