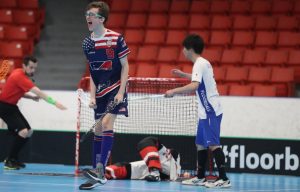 When Tyler Radichel moved to Flower Mound in 2013, he was looking for a sport to play.
Six years later, the high school junior is competing at an international level in a sport that, until he had arrived in southern Denton County, had never heard of before.
Floorball is a game similar to gym hockey, where athletes use sticks and a ball similar to a wiffle-ball to try to score against an opposing team.
According to www.usafloorball.org, "teams consist of up to 20 players, with five field players and a goalie on the court at a time in official matches. A floorball goalie wears light padding and a mask, but does not have a stick."
Tyler, 16, said he was hooked from the outset.
"Beginning from a young age, I was always an avid hockey fan," Tyler said. "My dad was a Minnesota North Stars fan growing up and still to this day I think. I grew up watching the Atlanta Thrashers and then the Dallas Stars. However, growing up in Atlanta, we had no youth hockey programs and I was not the strongest or biggest kid.
"Instead, my brother and I would play street hockey with dad in our cul-de-sac. Once we found floorball, I already had 10 years of street hockey experience; and, I instantly fell in love. It was a way for me to play the sport I loved growing up, without all the physicality and equipment."
What started as an activity at the Community Activity Center in Flower Mound on Thursday nights and Saturday afternoons with other kids, eventually grew into Wednesday night pickup games with adults as well.
Tyler loved it so much, in fact, that he joined the North Texas Floorball Association two years later and was selected last month to join Team USA for the World Floorball Championships (WFC) in Halifax, Nova Scotia for the Men's Under-19 team.
"The WFC was the greatest floorball experience of my life and arguably the greatest experience in my life personally," Tyler said. "I learned a lot about the game and how different it was at an international level, compared to a local level. It was a new step for me. Everything from the difference in fouls called, to official team practices, to team meetings, to opening ceremonies before games. It was a blast and I wouldn't have traded it for the world."
Team USA went 1-3-0 in the competition and finished 14th overall.
The national team also had a friendly game against New Zealand just before the start of the tournament, where they drew 5-5.
Tyler's father, Brian, started out playing the pick-up games with his son, but saw that there was more he could do for the sport as a referee and administrator instead of a player.
Brian decided to retire from playing after 18-months and focused on officiating and administration and said he has enjoyed watching how competing in floorball has helped his son in many facets of life.
"His confidence is definitely higher, as well as his focus in school," Brian said. "He understands that to succeed, he has to work hard and has found something that he loves doing. This semester, in addition to playing in Sweden at Christmas, attending a weekend camp in Detroit, playing in our local Texas tournament at spring break and, finally, at Worlds, Tyler carried a 3.8 GPA. We're really proud of him and his maturity as he grows and we attribute part of that to his own desire to be serious about floorball."
Tyler, who just finished his sophomore year at Immanuel Lutheran High School in Eau Claire, Wisconsin, said he has some definite ideas of what he would like to see the sport of floorball become, as well as what his involvement will be.
"My personal goal with floorball is the Men's National Team for the Birmingham World Games in 2021 and, eventually, the Olympics (a possibility in 2024), if I'm still young enough to keep up with the rest of the players," Tyler said. "I can definitely see myself making it to the men's team eventually. But, to make the Olympics, I would really have to train and take care of myself. My goal for the sport is that we develop it enough in the USA, where we can field a national team made up of primarily U.S.-based players and still be a competitive top eight team.
"I understand we are a long way from winning or being top eight. It certainly won't happen in my playing career. However, it could happen by the time I become a coach or a general manager for the team. Just to be a part of a top eight USA team would be truly incredible."
Visit www.ntfa.us for more information on the North Texas Floorball Association.