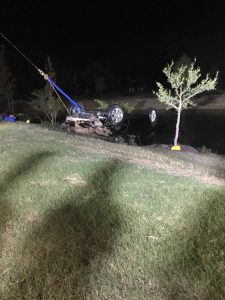 A car drove into the water near the Flower Mound River Walk on Friday night, and the driver was arrested.
Brandon Barth, spokesman for the Flower Mound Fire Department, said the call came in just before 9 p.m. of the car driving into a retention pond near the River Walk.
Capt. Shane Jennings, a Flower Mound Police Department spokesman, said it was originally a complaint about a reckless driver who made his way to the 2400 block of Merriweather Lane, struck the curb and became airborne, landing in the water.
The vehicle sank, but the driver was able to get out of the vehicle before first responders arrived.
The driver — a white male around 19 years old from Lake Dallas — was treated and arrested on suspicion of Driving While Intoxicated.
Out of precaution, the Lewisville Fire Department dive team cleared the car and assisted the wrecker to pull the vehicle — a black Jaguar — out of the water, Jennings said.
Fire units cleared the scene before 10:30 p.m., Barth said.