By Larry Varnes, Resident Director, Robson Ranch HOA
Wildhorse Golf Club Course Record Broken
Steady and consistent golf by David Harrison, Byron Nelson High School senior, fashioned a new golf course record with six under par for 18 holes. The new record came In the May 2019 High School District 5 6A Golf Tournament played at Robson Ranch's Wildhorse Golf Club.
That outstanding score, shot from the challenging black tees, broke the old course record held by 15+ year Robson resident Lawry Cohen. Lawry broke the previous record held by two local high school players on July 14, 2012. On hearing of his course scoring record had been broken, Lawry's response was a humble "It's about time… that record should have been broken long ago!" That simple statement is the preface to the personalities of two excellent golfers. One slowing down, if only slightly, and one just getting started in a very big way.
The first, Lawry Cohen, has shot his age now four years straight… 67, 68, 69 and now 70. He scored a hole-in-one (his sixth) during his most recent round of 70.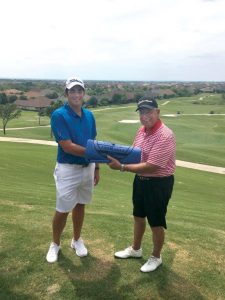 Then there's up-and-coming young David Harrison of Fort Worth who's looking forward to playing golf for the University of Texas San Antonio. He clearly has an eye out for a golf scholarship. David's longer-term ambition is a career on the PGA circuit.
Asked what advice he had for David, Lawry, after just a moment's thought said, "the best ball striking can never make up for poor putting." Per Lawry, that's his favorite golf adage compliments of RR's Ted Dunson, one of Lawry's long-time golfing cronies. Lawry went on to say that the strongest part of his game was putting, and that he used a Scotty Cameron putter when he set the just broken course record. Not surprisingly, that too was what David said when asked the strongest part of his game… "putting with my Scotty Cameron putter." A coincidence? We don't think so. Both profess to playing 4 or 5 rounds of golf weekly. Those rounds, along with focused practice and serious hard work are regular components of Lawry's and David's golf regimen. Sound familiar? Yep. And obviously the prescription for golf success of the highest level.
We here at Robson Ranch Wildhorse Golf Club, and especially Lawry Cohen, will keep a close eye on David Harrison as he continues his golf development and achievements in college beginning August 26, 2019. We look forward to David returning here for a practice round or two and wish him all the best in his pursuit of golf greatness!
City Council Update
By Jesse Davis, Denton City Council, District 3
For many folks, summer is a time to slow down and relax. But for the Denton City Council, the work heats up along with the weather. As you dive into your summer book list, we'll be diving into a sea of reports and spreadsheets. That's because summer is when your City Council considers the City budget and tax rates for the coming fiscal year.
My most important duty as your Council Member is stewardship of your tax dollars. For me, good stewardship means providing the highest quality of service at the lowest possible tax rate. With home values and tax appraisals on the rise, your City government owes homeowners the lowest property tax rate we can responsibly assess.
Thankfully, many Denton homeowners benefit from certain tax exemptions and freezes.
However, many more either don't qualify for exemptions yet or will buy a new home this year and thus "reset" their tax basis. So a low property tax rate benefits our neighbors most in need of relief. A low rate also attracts folks to Denton to start a business or invest in a new home. And of course, the less we spend on taxes the more we have in our family budgets to save for a rainy day, support charities, or add to the local economy.
You will be glad to know that the Denton budget process is built around the effective tax rate—the lowest rate necessary to collect the same revenue as last year. When our City economy is growing, like it is now, using the effective rate means lowering the tax rate below last year's. And, in a growing economy your City Council can fund more necessities—like police and fire—without raising your tax bill.
An effective tax rate also adds transparency in the budget process. Because we start from a flat budget and the effective rate, if your City Council chooses to fund more than what the effective rate will cover, the additional spending is front and center. Clearly, my goal is to assess only the effective rate. But, in any given year it may be that we need additional funds to maintain high quality, critical services.
You deserve to know, and your Council Member should be able to tell you, what you get in exchange for your tax dollars. Even more so for taxes that exceed the effective rate. I applaud the City Manager and his staff for this year organizing their budget requests into priority tiers, with each tier representing a need for one cent over the effective tax rate. Between the City staff's thriftiness and our growing economy, we expect to fund some top tier priorities at just the effective tax rate. But, if the City Council chooses to exceed the effective rate, we can tell you exactly why.
As always, please don't hesitate to contact me on these issues and any others before the Denton City Council. You can reach me on my cell at 940-208-7439, or by email at [email protected] I look forward to hearing from you, and I'll see you around town.