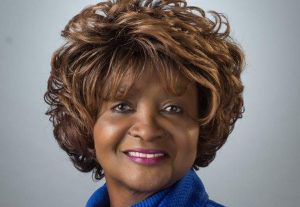 Couple Recognized for Many Contributions
We recognized Charles and Elaine Emery for their many contributions and exemplary public service to Denton County during a recent Commissioners Court meeting.
Charles Emery played a crucial role in drafting House Bill 3323 in 2001, which created the Denton County Transportation Authority (DCTA). Since then, he has served on the board of directors, worked with cities to approve half-cent sales tax to fund public transportation, and continued to serve 16 years with DCTA, which now carries more than three million passengers per year on its bus and commuter rail systems. Emery, whose roots in Denton County go back four generations, has also served on the Regional Transportation Council, the Dallas Regional Mobility Coalition and the Tarrant Regional Transportation Coalition.
Elaine Emery has likewise contributed much to the county, serving on numerous boards including the Lewisville ISD Education Foundation, Denton County Public Health Department Advisory Board, Children's Advocacy Center for Denton County and Christian Community Action where she served two six-year terms. Elaine also served as board chair for four years for Medical City Lewisville.
Thank you both for your many years of service.
Flower Mound Updates County on Town Initiatives
During a recent Denton County Commissioners Court meeting, we learned the latest on Flower Mound's River Walk and Lakeside Village.
Restaurant row is under construction on the River Walk, which is anchored by a Courtyard by Marriott, and future Home2Suites and will feature a splash pad, amphitheater and a new retail/office building,
Lakeside Village is the latest development in the works, which will bring additional $1.5 billion in value to the town along with seven restaurants lining Lake Grapevine on the south side.
Andrea Roy, Director of Economic Development in Flower Mound, also touted the accolades Flower Mound has received, including "Happiest Small Town in America" by Top Counseling Schools, the "Most Livable Small City" by SmartAsset and the "Safest City in Texas" by SafeHome and The Home Security Advisor.
The town has continued to diversify its tax base with additional commercial, retail and industrial business. In 2017-2018, the town collected $12.2 million in sales tax. In the first six months of the 2018-2019 budget year, sales tax revenue had increased 8.2 percent.
The town also began developing themed parks, recently opening Thrush Park, which is dinosaur-themed. Stone Creek Park with its tree-themed park sports a new shade structure.
The community update is part of a weekly series of updates during our Commissioners Court meetings from each of the 44 communities across Denton County.
We look forward to these updates and hope to return the favor in the near future.
County Growth Rate Impressive
As you've likely heard, Denton County continues to grow at a quick rate adding more than 25,000 people last year alone. Among North Central Texas counties, Denton County has the second highest growth rate behind Collin County.
Each of our 44 communities has experienced growth. What you may not know is that Ponder has the highest growth rate at 30.9 percent, followed by Northlake with 20.6 percent and Hickory Creek with 14.5 percent.
These numbers paint a picture of the challenges we all face in grappling with fast growth – from providing services and planning transportation needs to expanding housing availability and diversifying employment opportunities.
At the county level, these issues are taken into consideration as we plan services for the coming year. In 2009, Denton County employed 1,481 people. Today, we have an estimated 1,700 employees who provide necessary services – whether that includes more deputies and detention officers for public safety, additional employees to handle in excess of $6 million collected daily for an estimated 125 entities through the tax assessor/collector division or opening additional courts with judges and staff to handle increasing caseloads.
Highland Village Firefighters Plan Event to Help Co-Worker
Highland Village firefighters banded together to plan a fundraising event for Vince Jones, a longtime Navy veteran and firefighter who was diagnosed with pancreatic cancer in October 2018. In June, he began the next leg of treatment to undergo five consecutive weeks of radiation therapy at MD Anderson Hospital in Houston.
To help support his family, fellow firefighters organized Vince's Band of Brothers at Marty B's in Bartonville on June 30th from 1 p.m. to 5 p.m. Tickets are $30 at the door. Tickets for children are $15 each. The tickets include access to a taco bar and one adult beverage or soda/tea/water for a child.
Sounds of Lewisville Continue in July
The Sounds of Lewisville continue in July on Tuesday evenings from 7 p.m. to 9:30 p.m. at the Wayne Ferguson Plaza at 150 W. Church St.
The free concert series will feature a smorgasbord of musicians ranging from Bidi Bidi Banda (All-Star Selena Tribute) with Silentt Echo on July 9 to Blaze of Glory with Back to Rock Student Showcase on July 16, Even It Up: Ultimate Heart Tribute with Ashmore on July 23, and Shameless A Tribute to Garth Brooks with Be the Next Performer on July 30.
Bring blankets and lawn chairs and your pets, if well behaved and on a leash. Food and other refreshments are sold onsite.
Lewisville to Celebrate 50th Anniversary of Texas International Pop Festival
On Labor Day weekend in 1969, more than 100,000 music fans converged on Lewisville for what would become one of the largest music events in Texas.
For three days at the former Dallas International Motor Speedway and a smaller stage on the Lewisville Lake shores, the Texas International Pop Festival featured such performers as Led Zeppelin, Janis Joplin, Santana and more.
Fifty years later, the Texas Pop Turns 50 celebration is slated for Saturday, Aug. 31, and Sunday, Sept. 1, at the Lake Park Golf Course from 2 p.m. to 11:30 p.m. each day.
ZZ Top will be the headliner on Saturday with Chicago headlining on Sunday. Both performances are at 10 p.m. Other performers include: Sarah Jaffee, Bombasta, The Box Tops, Animotion, Glen Clark Band, and Jonathan Tyler & The Northern Lights – to name a few.
For ticket, parking and other information, visit www.cityoflewisville.com.
Sounds of Red, White & Lewisville Set for July 3
Bring the family to the Wayne Ferguson Plaza in Lewisville from 6 p.m. to 10 p.m. for a free concert and fireworks to celebrate Independence Day.
This year's event will feature "Satisfaction" by The International Rolling Stones Tribute Show with fireworks following the concert.
Food trucks, inflatables and more will be available. For information, visit www.cityoflewisville.com.
Independence Fest in Flower Mound on July 4
Bret Michaels' Unbroken World Tour stops in Flower Mound on July 4 for the annual Independence Fest.
A full day of activities include a children's parade, vendors, food, Time Machine Car Shows, a kid zone and other entertainment including Le Freak, Breaking Southwest and more.
The festivities end with a full display of fireworks.
Find out more information at www.flower-mound.com
Parade, Food, Music Part of Lake Cities 4th of July
A patriotic parade kicks off the annual Lake Cities 4th of July festivities.
Each year, the four communities of Lake Dallas, Corinth, Shady Shores and Hickory Creek unite for a day filled with fun for the whole families.
The parade, which begins at 9 a.m., starts a day filled with food, contests, vendors, music and fireworks.
Admission is free to the event at Lake Dallas City Park, 101 E. Hundley Drive.
Connect With Us:  Be sure and connect with Denton County on Facebook at www.facebook.com/DentonCountyTX and on Twitter @DentonCountyTX.
If you have any questions or comments, please let me hear from you. My email is bobbie[email protected] and my office number is 972-434-4780.