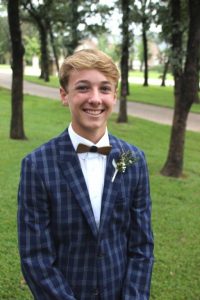 Connor Menckhoff is the proverbial "chip off the old block."
The Liberty Christian senior plays varsity soccer, is in the band and the spike ball club at LCS, He said when he grows up, he hopes to follow in his father's footsteps.
"I'd like to be an ER physician, like my dad," Connor said. "I can help friends and family and, hopefully, work in other countries."
It should come as no surprise, then, that Menckhoff is a member of the Pre-Med club at Liberty Christian School and has a real passion for doing international mission work as well.
"I like to challenge myself and enjoy the sense of teamwork and community," Menckhoff said.
Ranked ninth in his graduating class, Menckhoff, 17, is also a member of the Spanish Club and said many of his experiences at Liberty Christian School have affected him deeply.
"Growing close to friends and teachers and– more important, a mission trip to Panama earlier this year was transformational," Menckhoff said.
Menckhoff said that the most challenging thing he believes he faces in life, is being taken seriously by older generations of people.
"I am able to do physically difficult things," Menckhoff said. "I climbed a mountain in Colorado for the past two days. But I am not always treated with as much respect by adults as I feel like I deserve."
The Lakewood Village teen is traveling to Guatemala at the end of this month to participate in a medical mission trip and said he enjoys wake-boarding, snowboarding and riding ATV's in his free time.
He carries a 4.25 grade point average at Liberty Christian School and is currently planning to attend Trinity University in San Antonio and major in Biomedical Engineering.
Menckhoff's Favorites
Favorite Subject: Physics
Person who most inspires me: Mr. Hartzler
Favorite Food: Zaxby's Chicken
Favorite Movie: Now You See Me
Favorite TV Show: The Office
Last Book Read: Ivanhoe
Favorite Musical Group or Performer: John Mayer