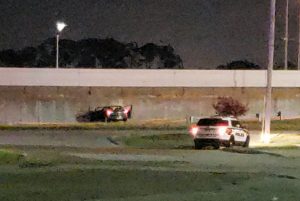 Lewisville police are investigating a shooting incident from Thursday night  that killed one and injured two more.
LPD Capt. Mike Moore said that the call came in around 10:44 p.m. that people had been shot at Lakeland Plaza, at I-35E and SH 121 Business.  Initially, it was believed the shooting was in a parking lot near Electric Cowboy, but Moore said it was at the Fiesta Banquet hall.
All of the victims were transported to area hospitals, and their conditions were unknown Thursday night. But at least one has died from her injuries. The Tarrant County Medical Examiner lists the deceased as 16-year-old Amya Alane Batie of McKinney.
Moore said two of the victims were in a car that crashed into the barrier wall for the I-35E southbound flyover that crosses SH 121.
As of just after midnight, police did not know the relationship between the shooters and the victims, but believed it was not a random shooting.
Detectives are on scene and the investigation is ongoing on a fluid scene.  No suspects are in custody, and police were not able to share a description.
Radio traffic indicated the southbound I-35E service road was closed near SH 121 business.
Click here for updates to this story.