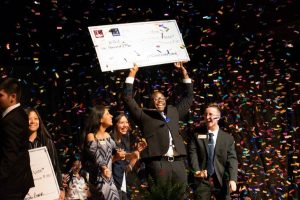 Nearly two dozen students got something like the "Shark Tank" experience with a year-long entrepreneurial project coming to an end with a "Pitch Night" event at Lewisville High School and one team winning $4,000.
They had spent the school year participating in one of the most challenging scholastic and career programs in the world – The Lewisville Independent School District's INCubatoredu program, more commonly known as the Incubator program, according to a news release from LISD. According to the website for the innovative curriculum, "INCubatoredu is a full-year course and offers an authentic entrepreneurship experience as students build a business. Students make mistakes, take risks and learn to pivot. They develop their own product or service startup to gain investment funds in a final shark-tank style pitch event. Real entrepreneurs and industry experts serve as volunteer coaches and mentors guiding student teams through the processes of developing hypotheses about a business concept, testing those hypotheses, adapting, and continually learning and improving.
"Students leave the course having completed a 'Business Model Canvas', competitive analysis, financial model, minimum viable product, pitch deck, future communications plan, and future funding plan."
As with many of the innovative programs of LISD, the Incubator program is a partnership with the community and its leaders and the school district. These partnerships are often developed by LISD's Director of Strategic Partnerships, Lindsay Ayers.
"There was grant money available from the City of Lewisville," Ayers said, "And I loved the idea of the Incubator program. While it was challenging to convey how this partnership might benefit both students and the city, since the funding was available, it made it more attractive for all parties. From the very beginning, it was obvious to all stakeholders that this program would make the subject matter real for the students."
Entrepreneurs and These Students are "Type A"
Before realizing her passion was teaching high school students, Incubator teacher Valerie Cooper was in the business world and her real-world savvy is obvious in her direction of her students. She noted that the personalities and drive of the kids in this program are definitely "Type A."
"In my experience, high school students really believe that they are going to be successful," Cooper said. "They believe that six-figure salaries are guaranteed and that everyone can be the next YouTube sensation. Because they see this success all the time, they think they can also do it.
"What's interesting about this class is that the students come in with their own ideas about what success means. They know they want to be a businessman or woman but they don't quite understand what it means to really do this. This class gives them the practical steps that are necessary for them to be successful.
"They use the skills they learn in our 'Start-Up' program to navigate their next steps in the business world. With this program, they can learn about the various industries that they might enjoy. This could be anything from the sports management, to healthcare, to entertainment and everything in between. They are able to explore different avenues in different professions."
Finally … It's Pitch Night
Anyone who has seen the "Shark Tank" program, where entrepreneurs "pitch" well-known business leaders, such as Dallas Mavericks owner Mark Cuban, on investing in their start-up enterprise, knows the basics of the LISD Pitch Night competition. Like Shark Tank, the atmosphere of Pitch Night is electric.
Cooper explained, "This program was the opportunity for five student teams to present their ideas to investors for start-up funding for their business ideas – both products and services. This enabled them to gain experience for live, public pitches.
"We started with 14 teams in the beginning of the competition," she said. "Two teams – deemed 'Farmer's Favorites' – came from a competition at Lewisville High School.  The other three teams were chosen by an academic board and these teams were evaluated on the basis of their presentation skills and their innovative ideas.
"It gave the students the opportunity to learn how to create a product or service, organize its features and benefits, present their pitch and make their 'ask.' You might think that these students could be nervous, but they weren't. These kids like to show off. Plus, they were so passionate about their product that they couldn't wait to get up there and get started."
The judges for the competition included, Lori Fickling, President of the Lewisville Area Chamber of Commerce, TJ Gilmore, Councilman for the City of Lewisville, Karen Hibbs, representative of The Hudson Foundation, Julia Santosuosso from the Corporate Stewardship Department of Mary Kay, Inc., and Harold Strong, CEO of CodeStream Studios.
The winning team for the LISD Pitch Night is composed of:
Samuel Akisanmi
Wesley Brewer
Jacqueline Hernandez
Giselle Porras
These students were awarded $4,000 dollars to continue to grow their business.  There is a possibility they will compete at the national INCubatoredu competition in Chicago this summer.
The Incubator program is part of a trend of high schools offering curriculum alternatives to students who might be interested in entering the workforce right after high school. The fact that many successful technology entrepreneurs have decided to forgo college and begin working on products and services for which they are passionate, is fueling this trend.
"At the end of the day, LISD wants our students to have the tools to be successful in any avenue of life they choose," Ayers said. "We know some of our kids are going to do the four-year college route and that's the path that they really want. However, we know that for some of our kids, that might not be reality for them either now or in the future.
"We do have really incredible trade training programs, which we call 'career centers,' in the district. They teach specific skills but many of these skills could be stand-alone businesses when the right entrepreneurial training is applied."