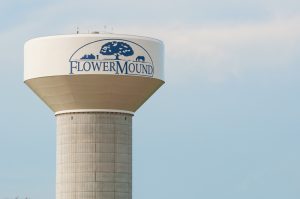 The town of Flower Mound issued a news release Friday afternoon to warn residents of recent "Test My Water" social media posts, a ploy by companies trying to sell unnecessary filtration systems.
The companies contact residents in Flower Mound and other North Texas cities each year, claiming their drinking water needs to be tested by an outside source. They are usually trying to sell expensive filtration systems that residents don't need. One company claims to be supported by the Texas Water Utilities Association, but TWUA says it has no affiliation with the company.
The town of Flower Mound's drinking water meets or exceeds all federal (EPA) drinking water requirements and is safe to drink, and its public water system continues to be rated "superior" by the Texas Commission of Environmental Quality. The town conducts more than 70 bacteriological tests each month to insure the water is safe, and the water is also tested for chlorine, ammonia, monochloramine and nitrites. The chlorine levels are tested more than 200 times a month. Click here to see the town's annual water quality report.