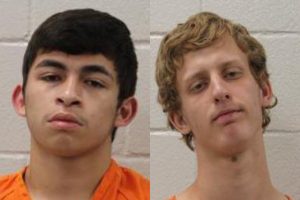 The Flower Mound Police Department arrested two teenagers Thursday who are accused of burglarizing a home and then trying to escape police.
Police received a call of a residential burglary in progress in the 2900 block of Windsor Drive about 5 p.m., according to a FMPD news release.
When officers arrived on scene, they saw two suspects get into a vehicle and quickly leave the area.
With the help of assisting officers, FMPD quickly located the vehicle, shortly before it crashed at the intersection at Windsor Drive and Long Prairie Road.
The passenger in the vehicle, 17-year-old Ryan Rosales, was immediately taken into custody. The driver, 18-year-old Nikolai Hannemann of Highland Village, led officers on a foot chase before being taken into custody in a nearby field, according to police. 
Hannemann and Rosales were charged with burglary of habitation and evading arrest, and were taken to a local hospital for minor injuries from the crash.
The driver of the other vehicle involved in the accident was not injured.