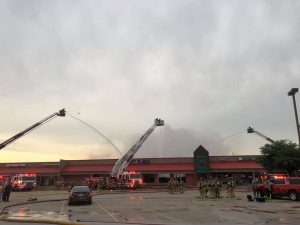 The Thrift World store on FM 1171 in Lewisville is a "total loss" after a huge fire engulfed the building early Wednesday morning.
Lewisville Assistant Fire Chief Mark McNeal said a driver saw smoke as they passed the strip mall just east of Garden Ridge Boulevard just before 6 a.m. and called 911. Firefighters arrived to find heavy involvement, and they had to use defensive tactics the whole time. The roof collapsed and there was instability in the exterior walls, forcing the firefighters to stay outside the structure.
They were able to contain the fire from reaching into the adjacent businesses on either side, McNeal said, though those businesses will have some water and smoke damage. The cause of the fire is under investigation.
"It will be a while before we have any true idea of what caused it, because of the amount of damage," McNeal said.
About 100 firefighters in total responded to the four-alarm fire, including personnel from Carrollton, Coppell, The Colony, Highland Village and Flower Mound. The scene was cleared around 11 a.m., though crews will return every couple hours to check for hot spots.