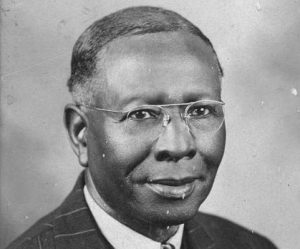 The Denton County Historical Commission will dedicate an Official Denton County Historical Marker this weekend in honor of Frederick Douglas Moore, an African-American leader and key figure in Denton's history.
In the late 1800s and early 1900s, Moore built a successful business, earned a master's degree from Columbia University and served as principal of Denton's only school for African-Americans from 1915 to 1953, according to the Texas State Historical Association. He was a leader in his church and community, and in recognition of his achievements on behalf of Denton's black community, the city of Denton dedicated Fred Moore Park in 1948 and named the newly-built Fred Moore High School in his honor in 1949. He was also selected "Man of the Year" for 1949 by Applause magazine.
A dedication ceremony to commemorate the event will be held on Saturday at Fred Moore Park, 501 S. Bradshaw St. in Denton. Speakers will include Denton County Judge Andy Eads, Denton Mayor Chris Watts, Elise Clements and Zelinda Pegram, step-granddaughter of Frederick Douglas Moore, according to a news release. The Denton County Historical Commission is inviting the public to share in and witness the historical event, which will follow the 1 p.m. Juneteenth Celebration Parade.
"The Official Denton County Historical Marker program helps bring attention to community treasures and the importance of their preservation," the news release said. "Awareness and education are among the best ways to guarantee the preservation of our county's history. This designation is a tool that will increase public awareness of important cultural resources."
A subject qualifies for a marker if two basic criteria are met: historical significance and age. This marker for Moore will be the first DCHC marker to recognize an individual.
"It is vital that as we move forward, we do not forget our past," said Roman McAllen, chairman of the Denton County Historical Commission. "Not only will the Denton County Historical Marker program provide awareness in the community of our fascinating history, but it will become a building block for the promotion of local tourism."