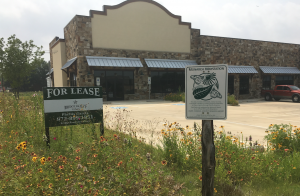 A new retail/office park in Flower Mound will hold a ribbon-cutting event Tuesday to show people the unique design and amenities that are focused on preserving the local environment.
Prairie Commons, located at 3370 Long Prairie Road, will host the Chamber of Commerce ribbon cutting at 10 a.m. Tuesday, and tours will be offered to share information about the low impact development rain gardens, rain water harvest system, native prairie landscape from seed and dark sky lighting. The "naturally healthy, responsible workplaces" concept was created by the owner, Bill Neiman.
Phyllis Garcia of Bridge Realty said the community is invited to the ribbon-cutting and learn more about the preservation features.
Camp Bow Wow is currently open in the new development, and some medical offices will be moving in soon. Additional retail spaces are available to lease and office condos are available for sale.