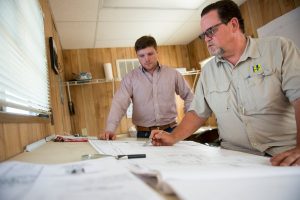 A prairie is an extensive– level or slightly undulating– mostly treeless, tract of meadowland in or near the Mississippi River drainage system.
Before pioneer ploughs broke local highly-fertile prairie sod, some of the thick bunching native grasses were six-feet tall; excellent cover as it turned out for Comanche raiders on horseback.
Landowner Bill Neiman and commercial builder/developer Mark Glover decided to rethink standard building and landscaping as they planned Prairie Commons, a unique "sustainable" business condominium project on Neiman's roughly five-acre plot of land on Yucca Road– near the heart of Flower Mound– southeast of the bustling intersection of FM 2499 and FM 1171.
The project is intended to house professional offices and small businesses. It sits on a piece of the former Long Prairie– a four-mile-long by one- mile-wide meadow– that once upon-a-time nestled in the eastern side of the ancient Cross Timbers forest; the last woodland before the North American western desert.
Today, as the old prairie swarms with ever-expanding suburban neighborhoods and business parks, about the only evidence of the ecological past is the popular name of FM 2499– Long Prairie Road.
Non-native grasses and plants, that guzzle precious and expensive water to stay alive, have replaced life-forms that once flourished in this area.
"We are making a significant up-front investment to restore the original prairie habitat and keep down common area expenses," Glover said.
This includes solar and rainwater harvesting, dark-sky lighting and bringing back native grasses and other plants.
"Typical Bermuda and St. Augustine lawns have to be mowed twice a month during the growing season, whereas native grasses may only require semi-annual mowing," he added. "That's a significant decrease in landscape maintenance costs for the future condo owners."
Neiman owns and operates Native American Seed in Junction, Texas.
"Just 150-years-ago only native plants filled the Long Prairie," he said, "they'd love to make a comeback."
The phrase "low environmental impact" best describes Neiman and Glover's approach.
"We're the only developers that we know of in this area to come at a project in this way," Glover said.  He's a man on a mission.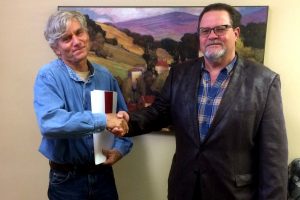 The nine-buildings onsite will be faced with natural beige-colored stone.  Standing-seam roofing will aid expected rainwater collection, for a total of 100,000 gallons, in three ranch-style water tanks and nine-catchment and purification ponds on the property.  The water harvest will irrigate lawns, pollinator and butterfly gardens; and, possibly, be plumbed into the buildings.  Complex-owner solar panels will provide power for outside lighting.
"Another option for our buyers/lessees will be solar paneling on individual buildings, so their ongoing power costs can be aimed toward zero-net," he said.
In a zero-net energy scheme, solar panels convert sunlight to usable power, that utilities purchase from the panel owner, then deduct the purchase cost from the owner's bill.
"What's not to like about zeroing out your power bill?" Glover asked. "We're interested in creating a sense of place at Prairie Commons– in preserving local history."
To that end, the plans call for five huge, colorful murals about Long Prairie's history on several exterior walls.  Think pioneers, windmills, farmhouses, water tanks, wells, old time wood ranch gates and the like.
"We plan an art contest, from which we can choose work best-suited to our goal of depicting a prairie farm," said Glover.
So, how did these two businessmen arrive at "low environmental impact" land development?
Neiman owned a landscape company in Flower Mound.  This was when most of municipal Flower Mound was still cattle ranches.  Interested in sustainability, he and Glover met at Bob Rheudasil's ranching seminars held near today's Red Oak Lane.  Yes, that's THE Bob Rheudasil, Flower Mound's first mayor.
In 1983, Glover married Rheudasil's daughter, Penny, and became an in-demand commercial builder.  The Flower Mound YMCA is a sample of his work.  Meanwhile Papa Rheudasil told him all the old local stories and introduced him to the old-timers from Blackmark Farm– 4,000-acres for running cattle– and Flower Mound Farms.
This was heavenly for a young guy interested in topics like cowboys and Indians, Texas Rangers and the like. Eventually he and Penny bought her father's house and its large lot. The property gave their two sons plenty of room to run and play, and enabled the couple to indulge their passion for sustainable-living.
As a result, the Glovers have an attractive prairie land yard, a greenhouse with a unique horticultural man-cave in one corner, a big successful field garden, a small orchard, some very old local trees, a bee yard; and, two chicken coups for their clucking flock, plus 104-year-old Aunt Fay Turner's pet turkey, named Lucky. A turkey named Lucky?
"He tangled with a bobcat and came out of the encounter with a single scratch," Glover said, pointing to a golf cart parked at the back patio of the house. "That's Aunt Fay's vehicle.  Lucky sits on her lap when we go riding."
Glover inherited Mayor Rheudasil's historic farm/ranch/hunting artifact collection that he houses in a wooden ranch outbuilding, which looks like something off the set of an old western.
Neiman became interested in native plants that weathered local droughts. He made the short jump from that, to native plant seed production; and, from there to a seed ranch in Junction, Texas, where he started Native American Seed, a highly-successful enterprise dedicated to selling the means for prairie meadowland restoration and conservation.
The new Prairie Commons development is the result of the men's interest in and commitment to the natural approach to construction.
Find out more about Native American Seed and prairie restoration and preservation at: www.seedsource.com.
A preview of Prairie Commons and its amenities is at: www.prairiecommons.net.
Contact Mark Glover's iMark office at: 214-550-5017.