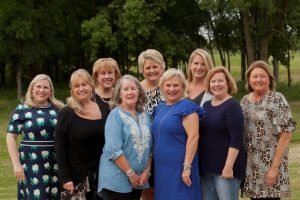 The year was 1975 and the population of Flower Mound was about 3,000 residents. The town was only 14 years old, but its leaders had the vision to see a prosperous future for the little flower of North Texas.
It was that year in which a few women decided to found an organization to provide assistance to those with needs in the community. Thus, the Women of Flower Mound (WOFM) was born.
The WOFM has grown substantially since those early days, organizing major events, raising funds and contributing to the community in numerous ways.
Today, there are approximately 100 members. Incidentally, the town has grown to over 75,000 residents.
"The Women of Flower Mound is entering its 45th year," said President Tiffany Waisanen, "Our primary purpose is to raise money for scholarships for high school seniors living in or attending school in Flower Mound."
The group also promotes local charities each month. They partner with such area charitable organizations as Santa Cops, Allie's Wish, Youth & Family Counseling and Chemo Bags, among others. At the July 4th Parade, they provide the popcorn and the hot chocolate at the annual Christmas Parade.
The scholarship program was established in 1988.
"This year, we had 78 applicants– both boys and girls," said Waisanen. "That's the most we've ever had for the scholarships."
Scholarship awards are based on the applicant's academic achievement, career goals, leadership and financial need. This year, the WOFM plans to award three $4,000 scholarships and a new $5,000 scholarship.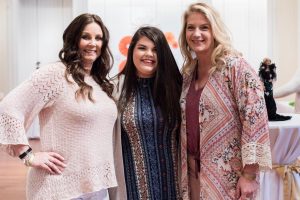 The Helen H. Johns Memorial STEM Scholarship will be awarded annually to a female graduate who is pursuing a degree in science, technology, engineering or math.
"Helen Johns, our final founding member, passed away June 2018. We felt it only fitting that we award a scholarship in her memory for her dedication to WOFM until the very end," said Waisanen. "The Helen H. Johns Memorial STEM Scholarship was created to mirror her personality. We thought that if Helen were a young woman today, her natural curiosity, as well as her desire to have an impact on the world, would have led her to pursue STEM studies."
She added that John's obituary correctly stated that: "Relative to the times and the era, Helen Johns was a genuine pioneer woman, an iconic figure who lived an interesting life as a member of the greatest generation and went on to become an enduring part of the cultural foundation of present day Flower Mound."
"Those of us who had the privilege of knowing and working with Helen remember her as a smart, determined and successful woman; curious, high spirited, feisty and fun," said Waisanen.
"We have great hope that the recipients of the Helen John's Memorial Scholarship will use their studies to improve our amazing world and leave it a better place for future generations."
All local area ladies are welcomed to join, not just Flower Mound residents. "We enjoy the camaraderie from meeting other ladies and working on a common goal of raising money for very deserving high school seniors," said Waisanen.
"Our organization meets monthly, August to May," said Waisanen. "We hold two main fundraisers – a Christmas Home Tour and Spring Fashion Show. Our annual show last month raised $8,000."
The 2019 Scholarship recipients will be announced at the WOFM Banquet at Bridlewood Country Club on Wednesday, May 8. Tickets are $25 and includes dinner and are available either through the RSVP link on the group's website: www.womenofflowermound.org, or at the door.
The group meets the second Tuesday of each month at various locations in Flower Mound or Highland Village. Membership is $30 for annual dues.
Contact any board member or visit the About Us/Committees page to see how to get involved.