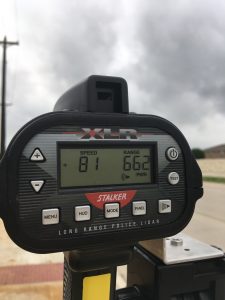 Denton police have begun issuing speeding citations on the new stretch of FM 2499.
The Texas Department of Transportation completed the FM 2499 extension project last spring, extending the thoroughfare from FM 2181 in Corinth up to I-35E in Denton, creating an alternate through route from Denton to DFW Airport. The new section of 2499 in Corinth and Denton has been without speed limit signs until this spring, when TxDOT installed speed limit signs of 45 mph, according to the Denton Police Department, which was only issuing warnings until Thursday.
In just three hours on Thursday morning, Denton police traffic officers issued 57 speeding citations on FM 2499, with one as high as 81 mph in the 45 mph zone, the department said on social media. They will continue to work in the area to ensure compliance with the newly posted speed limit signs.