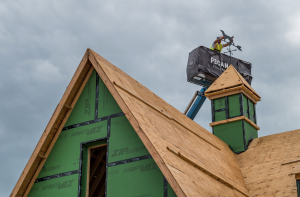 Hillwood Communities held a special "topping out" ceremony on Tuesday to mark its latest construction milestone at its new master-planned development in Northlake, Pecan Square.
More than 150 members of the community, including local officials, attended the event, which included virtual tours of future homes, the unveiling of the community's co-working space and previews of the development's product diversity and robust technology package.
Fred Balda described "topping out" as a milestone "much further along than a groundbreaking, but not quite a grand opening." The "topping out" — the placement of the final piece on a building — was completed when the weather vane was installed on top Jackson Hall, the future community center.
Pecan Square, as currently planned, will have 3,100 homes by 10 builders, three new Northwest ISD schools and many community amenities. New home prices will range from the mid-$200,000s to the $500,000s.
A variety of homes will be offered, from townhomes to large single-family, in styles including Craftsman, Texas Hill Country, Modern Farmhouse, European Romantic, American Classical and Transitional. Each home will be equipped with first-of-its-kind "Canopy" technology, including gigabit internet, Echo Show and Ring Video Doorbell.
"With Pecan Square, Hillwood Communities is bringing together the best of both worlds with the tradition of the past and the technology of the future," said Tom Woliver, director of design and development. "Pecan Square will be the first master-planned community in the U.S. to fully package these components."
The community will be designed around the concept of an old Texas town square, which will have a fitness center, event arena and lawn. There'll be a co-working space, a flexible work space with work stations and meeting rooms, and at the center of it all will be Jackson Hall, "the pulse of the community" with swimming pools, a game room and other space for events and gatherings. The 1,200-acre property — which has preserved more than 200 pecan trees — is located on the south side of FM 407, about 1.5 miles west of I-35W.
Click here for more information.