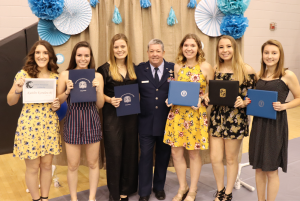 Six Guyer High School seniors — dubbed the "Spectacular Six" — have earned a combined $1.5 million in scholarship money to attend service academies or colleges with ROTC units this fall, according to Denton ISD.
Ashlyn Clark, Jessica Gamsjager, Cassidy Jester, Kaitlin Koralewski, Madison Miller and Aris Quiroz are graduating Friday morning with bright futures and an unprecedented amount of scholarship funds, according to a Denton ISD news release.
Clark earned a Type 2 U.S. Air Force Scholarship valued  over $200,000 with college matching money, according to the news release. She will attend the University of North Carolina at Chapel Hill and major in biomedical engineering. When she graduates from college with a Bachelor of Science degree, she'll be commissioned as a Second Lieutenant in the United States Air Force and will have a job solving technical problems of the highest caliber for the United States Department of Defense.
"I come from a lower middle-class family and college is very expensive," Clark said. "While there is financial aid, often times it doesn't cover the full extent of what college is going to be and college debt is a serious issue and so with the ROTC scholarship, it definitely helps me get ahead of the game and not go into debt and have to structure my adult life around student loans."
Gamsjager and Jester will be attending the United States Merchant Marine Academy. More than 2,200 applicants applied, and Gamsjager and Jester were two of only 280 appointees selected. Both will earn scholarships valued at $265,000 apiece to attend the USMMA, one of the more rigorous collegiate academic programs in the country. Both will spend one year of their college experience working on ships at sea.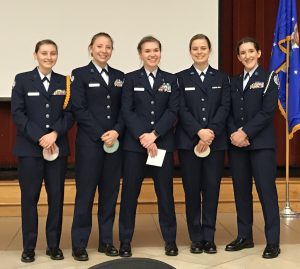 "Back in middle school, I asked my parents – did you put any money away for my college?" Gamsjager said. "They said, no, we expect you to get scholarships, I knew I really needed to figure out how scholarships work and how I can provide for myself."
Miller is receiving an Army ROTC scholarship to attend Texas A&M valued at $102,000. She plans to become a member of the Corps of Cadets and graduate with a Bachelor of Science degree in Nursing. Upon college graduation, Miller will be commissioned as a Second Lieutenant in the United States Army.
"I come from a Texas A&M family; I have two brothers and my mom is a single mom," Miller said. "My mom put herself through college with us as little kids and just knowing she had that drive, and that passion to be able to complete her education inspired me. I just knew that this is what I want to do. No matter what happens, I'm going to make it through college. After I knew what I wanted to do, I just needed to find a way to pay for it. I'm excited to be in the Army!"
For Koralewski, the past four years in JROTC have been all about pursuing her dream of flying a military aircraft. Nearly 14,000 high school seniors applied for admission to the United States Air Force Academy and Kaitlin was one of 1,350 to receive an offer.
"I got a Falcon Foundation scholarship which is basically USAFA grads pay for about 75% of your first year at a prep school. So, I'm going to be going to New Mexico Military Institute in Roswell, New Mexico and I'm going to prep for a year," Koralewski said. "In five years, I hope to have graduated from the Air Force Academy and my passion is to fly for the United States Air Force and so whatever it takes to get there, that's what I'm going to do."
After graduation from NMMI, Koralewski will follow on with admission to the United States Air Force Academy where she will join a select group of students that will train to be future leaders in the United States Air Force. Once she graduates from the US Air Force Academy, she will earn a Bachelor of Science degree in her choice of 32 majors ranging from political science to aeronautical engineering. She will also be commissioned as a Second Lieutenant in the US Air Force, an appointment valued at $435,000.
Quiroz competed against 15,000 high school seniors, and less than 8% of the applicants were awarded scholarships through the Air Force. She will use the scholarship to attend Northern Arizona University where she will major in Biology. Upon graduation from college, she will earn a Bachelor of Science degree and be commissioned as a Second Lieutenant in the United States Air Force where she plans to become a weapons systems operator on an F-15E Strike Eagle. The total value of Quiroz's scholarship $115,500.
"I knew that college was super important if I wanted to have a successful life and just be able to not worry about money like my parents had to," said Quiroz. "Getting this scholarship was an amazing opportunity just to prove to myself that I can achieve something like that. So, this opportunity was just perfect for me and just not having to worry about money and take that stress off my parents and myself and it's just a great opportunity and I'm super excited to go to Air Force."
The seniors credit their time in the JROTC as the catalyst and the key element that propelled them to such bright futures.
"When I joined, I just got super involved and did everything that I could," said Quiroz. "I did all the community service, all the drill team stuff, all the color guard stuff just so that I could get as much experiences as possible. Through that I realized that wow, I love the Air Force, I love the military. This is the path I want to go on. I want to be a leader and I want to influence people. ROTC really helped me grow into that and when I found out about the scholarships I was like, this is just a win, win, win situation."