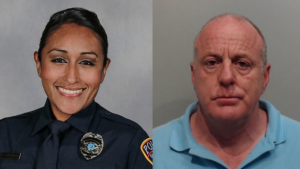 A San Marcos police officer has lost her leg after her police vehicle was struck by a man from Flower Mound, who is accused of driving while intoxicated, according to news media reports.
Officer Claudia Cormier was responding to a traffic hazard on I-35 in San Marcos on Saturday night when a vehicle slammed into hers, instantly severing her right leg just above the knee, according to the Austin American Statesman. She is in good spirits days after the crash, according to KVUE.
The driver, 58-year-old Neil Sheehan of Flower Mound, was arrested and charged with intoxication assault of a public servant and failure to slow causing serious bodily injury. He was released from jail after posting bail, according to reports.