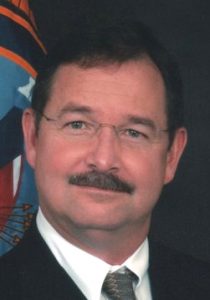 One of the more challenging emergency calls fire departments and police departments respond to are those that involve suicide or attempted suicide.  The Town of Double Oak and surrounding communities are not exempt from societal, family and economic stressors that result in tragedy.
In the latest data released from the Centers for Disease Control and Prevention 2017, it was estimated that 47,173 Americans died by suicide.  Suicide, the 10th leading cause of death overall but alarmingly the 2nd leading cause of death for persons between the ages of 15 to 34 and the 4th leading cause of death for persons between the ages of 35 to 54 (data from afsp.org/statistics).
Throughout an almost three decade career in law enforcement there has not been a year where I wasn't called upon, multiple times, to respond to a person experiencing a mental health crisis.  Law enforcement officers receive a limited amount of training in how to "de-escalate", negotiate and work with people having a mental health crisis.  The challenge for first responders is that we are being asked to achieve positive results, with a person in crisis, when they have become a danger to themselves and others.  We are asked to resolve situations that have taken years to evolve and will take years in treatment to resolve.  We don't have a personal relationship with the person in crisis.  We don't know the background (patient education, experiences, medical history etc.)  We don't know if that person intends to do harm to more than just themselves.  Finally, we're not health care providers, but oftentimes due to adverse circumstances, we're asked to be counselors on the fly for persons in crisis.
In Denton County, when law enforcement responds to a call for service indicating that a person is a danger to themselves, several teams are set into motion.  More than one police officer is dispatched to the person in crisis.  Emergency medical personnel are staged and are available to conduct a patient assessment once law enforcement have secured the call location.  Upon arrival officers will immediately go about "securing the scene" (ensuring that no weapons are accessible and that no one needs immediate medical treatment); officers will separate involved parties and begin an assessment based upon the totality of the circumstances (what did the person in crisis tell witnesses about harming themselves?  What has happened today that generated a call for help?  Is there evidence of a suicide attempt such as discarded pill containers, empty alcohol bottles or weapons?)  Law enforcement will consult with on-site emergency medical personnel and determine if the patient is a threat to themselves.  If the responding officers believe that the patient is a danger to themselves they will call for assistance from a Denton County Mobile Crisis Outreach Team (MCOT).
Mobile Crisis Outreach Teams (MCOTs) provide face-to-face clinical assessments to individuals in crisis 24 hours a day, 7 days a week. A MCOT consists of two individuals, a Qualified Mental Health Professional, and a licensed professional. The licensed professional can either be a Licensed Professional of the Healing Arts or a Registered Nurse. The purpose of the clinical assessment is to determine an individual's risk of harm to him/her self or to others, and to determine the least restrictive treatment setting in which an individual can safely receive mental health services.
Mobile Crisis Outreach Team members are, in my experience, amazingly patient, empathetic and professional when working with persons contemplating self-harm.  On multiple occasions I have watched MCOT staff defuse a crisis through questioning, a lot of listening and plain, factual, conversation with a patient.  We, law enforcement, rely heavily upon their judgement as to appropriate courses of action.
What happens after the police secure the scene and conduct an initial assessment, the fire department treats injuries (transports to a hospital if needed) and the MCOT team has made their determination as to patient risk?
It is surprisingly common for a patient to be left at the scene and scheduled for follow-up counseling and treatment.  If, after assessment, a higher level of care is wanted by the patient, voluntary admittance to a local hospital often occurs.  In the more challenging cases of persons wanting to harm themselves an application for involuntary commitment can be made be a mental health peace officer.  The Denton County Sheriff's Department has an outstanding team of specially trained mental health deputies that respond to the scene of a person in crisis at the request of local police departments or the MCOT team.  They, the deputies, give care providers a necessary tool to get persons in crisis mental health treatment by preparing an affidavit containing the facts and circumstances in which they believe a person is a danger to themselves or others.  The affidavit is presented to a mental health magistrate.  After careful consideration the magistrate makes a ruling as to probable cause and issues a mental health warrant ordering involuntary commitment on those persons who remain a continuing threat to themselves and others.  Persons ordered into involuntary commitment are transported by a mental health peace officer to an available, State of Texas controlled, treatment facility.
If you know someone contemplating self-harm I would ask the following (taken from www.ihs.gov/suicideprevention/howtotalk):  Before talking with someone you are concerned about, have suicide crisis resources available, such as the National Suicide Prevention Lifeline number, 1-800-273-8255 (TALK), or the Denton County Crisis Hotline at 1-800-762-0157.  Mention the warning signs that prompted you to ask the person about how they are feeling, the words used, or behavior displayed (signs make it more difficult to deny that something is wrong).
Ask the Question: Ask directly about suicide. Ask the question in such a way that is natural and flows over the course of the conversation. Ask the question in a way that gives you a "yes" or "no" answer. Don't wait to ask the question when the person is halfway out the door. Asking directly and using the word "suicide" establishes that you and the at-risk person are talking about the same thing, and lets them know you are not afraid to talk about it. Ask: "Are you thinking about killing yourself?" or "Are you thinking about ending your life?"
How NOT to Ask the Question: "You're not thinking about killing yourself, are you?" Do not ask the question as though you are looking for a "no" answer. Asking the question in this manner tells the person that although you assume they are suicidal, you want and will accept a denial.
Validate the Person's Experience: Talk openly; Don't panic; Be willing to listen and allow emotional expression; Recognize that the situation is serious; Don't pass judgment; Reassure that help is available; Don't promise secrecy; Don't leave the person alone.
Get Help: Share available resources with the person. Be willing to make the call, or take part in the call to the National Suicide Prevention Lifeline  at 1-800-273-8255 (Talk). The toll-free confidential Lifeline is available 24 hours a day, seven days a week.
Let the person know that you are willing to go with them to see a professional when they are ready. If you feel the situation is critical, take the person the closest Emergency Room or call 9-1-1. Do not put yourself in danger; if at any time during the process you are concerned about your own safety, or that the person may harm others, call 9-1-1.
Never negotiate with a person who has a gun, call 9-1-1 and leave the area.
If the person has done harm to him or herself in any way, call 9-1-1.
Thank you for the opportunity to serve.It is of note that these offenses probably took place during the early morning and under the cover of darkness. Both vehicles were parked in their respective driveways and required that the suspect(s) approach the vehicles on foot.
This offense is currently under investigation. If you have any information that may be of assistance please contact Investigator C. Murphy at 972-355-5995.
Please report all suspicious activity to your local Police Department by calling 911.
Recent Police Calls 
02-19-19 – Possession of Drug Paraphernalia – Double Oak – During the conduct of a traffic stop a Double Oak Officer located suspected drug paraphernalia.  The violator was issued a summons to appear in court.
02-22-19 – Forgery of a Financial Instrument – Double Oak – The complainant's name and bank account information were printed on counterfeit checks and deposited into another person's bank accounts.  The financial institution believed it was another case of "secret shopper" fraud.
02-27-19 – Fraud – Double Oak – DOPD Investigator received a report regarding an unknown actor using the victim's "e Commerce" account to make unauthorized tool purchases. The purchases were from a vendor of refrigeration/heating/air conditioning equipment and supplies.  The victim never set up any "e Commerce" account with the vendor and did not authorize any person to set up an account.
02-28-19 – Possession of Marijuana and Suspected THC "oil" – Double Oak – At approximately 11:40 p.m. a Double Oak officer (with the assistance of a Bartonville officer) located suspected marijuana and THC concentrate concurrent to the conduct of a traffic stop.
03-03-19 – Suspicious Persons – Double Oak – On Sunday at approximately 12:11 a.m. two unknown males approached the complainant's front door.  The homeowner was notified by electronic surveillance.  Officers reviewed the video and examined the front door and found no sign of attempted entry or any evidence of theft.  Responding officer was unable to locate the involved males.
03-04-19 – Fraud – Double Oak – A Double Oak Officer was dispatched to a Forgery call.  Complainant reported that their bank account was compromised and money was missing.
03-08-19 – Medical Call – Double Oak – Officer responded to a medical emergency at a local business.
03-12-19 – Fraud – Double Oak – DOPD Investigator received a report from a resident that an unknown male had contacted daughter by phone and was attempting to obtain her personal identifying information.  The suspect had a foreign accent and attempted to have the complainant's child go to a local 7-11 store (most likely to purchase "gift" cards and relay the numbers via phone). Complainant's daughter took the correct action by disconnecting the caller and notifying her parent.
03-13-19 – Accident – Double Oak – A known person caused damage to another person's driveway and yard while operating a motor vehicle.
03-14-19 – Medical Call – Double Oak – A reporting person was concerned about the welfare of her sibling.
03-15-19 – Disturbance – Double Oak – A resident reported being assaulted by a family member.
03-15-19 – Theft – Double Oak – Complainant reported that their trailer had been broken into and a leaf blower taken without permission.  Complainant later determined that he had misplaced the equipment and cancelled the report.
03-19-19 – Fraud – Double Oak – An unknown person(s) used the complainant's personal identifying information to purchase a vehicle.
03-19-19 – Harassment – Double Oak – Complainant reported ongoing electronic harassment by a known person.
03-21-19 – Fraud – Double Oak – An unknown person convinced the complainant to purchase gift cards to pay off alleged warrants of arrest issued by the Internal Revenue Service, Drug Enforcement Administration and the Social Security Administration. It is important to note that none of those agencies will call you to "pay off" your warrant.  Please contact the Double Oak Police Department if you suspect fraud or the allegation just does not make sense.  We are available at 972-355-5995.  If it is after hours please contact the PD through dispatch at 972-434-5500 and an officer will be glad to respond to your residence.
03-22-19 – Dog Bite – Double Oak – DOPD received notification of an adult having been bit by a dog from emergency room personnel.  Incident has been referred to animal control for follow up investigation.
03-23-19 – Accident – Double Oak – Officer responded to reports of an accident in which a motorist lost control of their vehicle and drove into a ditch.  A wrecker was called and the vehicle was removed.  During the investigation of the accident suspected drug paraphernalia was located and a citation was issued.  The investigating officer did not detect signs of intoxication.
03-25-19 – Runaway – Double Oak – Parents reported a juvenile left without permission after a disagreement over electronic devices.  Juvenile returned home on their own.
03-29-19 – Harassment – Double Oak – Known male repeatedly harassing former girlfriend through threatening and intimidating behavior. 
03-31-19 – Assault – Double Oak – Disturbance between two known parties in which an elderly male is alleged to have been struck on the head.
04-05-19 – Fraud – Double Oak – An unknown subject attempted to defraud an elderly person.  The complainant advised he responded to an online solicitation to purchase an ATV and sent $1,600 dollars in "gift cards" to the suspect as partial payment.  Complainant contacted the online marketplace and was told he had been the victim of a fraud.
04-06-19 – Suspicious Circumstances – Double Oak – While conducting a vacation house watch officers found an open residence.  Officers attempted to contact the homeowner.  No signs of theft were detected by the officers and the residence was secured.
04-05-19 – Suspicious Activity – Double Oak – Reports of a teenage male repeatedly using a social media application to threaten harm to himself.  Officers in a neighboring agency conducted a welfare check and notified the juvenile's parents.
04-09-19 – Fraud – Double Oak – Complainant reported having been the victim of an online fraud.  Complainant purchased approximately $4,000 in online "play cards" for the suspect(s) and also provided the unknown suspect(s) banking account and personal identifying information.
04-09-19 – Criminal Mischief – Double Oak – A motorist reported that a passing vehicle, being operated by an unknown suspect, hurled a water bottle at her car striking the headlight.  The water bottle broke the light and cause approximately $250 dollars in damage.
04-15-19 – Arrest – Double Oak – A male, 22 years of age was stopped for a traffic violation.  During the traffic contact it was discovered that the male had two warrants from Lewisville PD and multiple license plates that did not match the registration of the vehicle he was operating.  Subject was taken into custody and the vehicle was towed.
04-19-19 – Arrest – Double Oak – During the conduct of a traffic stop a male, 22 years of age was found to be in possession of suspected drug paraphernalia and had an active felony warrant for possession of a controlled substance.  He was taken into custody and transported to the Denton County Jail.