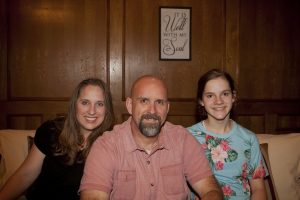 Skin cancer is the most common of all cancers. It is also the easiest to cure, if diagnosed and treated early.
Rob Dilts, a U.S. History teacher at Flower Mound High School, just celebrated his five-year-clear anniversary from a melanoma.
"I'd had a mole on my scalp for my whole life and my family doctor said it looked fine– no irregular edge and it wasn't dark," said Dilts. "My stylist, Nancy, had told me to get it checked, which I'd done, but then one time during a haircut, she nicked it."
So, Dilts went to see Flower Mound Dermatologist Dr. McGinnis in February 2014.
"On a Friday afternoon, Dr. McGinnis called me himself, which is never a good sign," said Dilts. "He said an oncologist would call me, which he did, and the next week I had surgery."
Dilts had no history of excessive sun exposure.
"I played football in high school, but I wore a helmet," he said. "I never worried about any of my moles. I've always had a full head of hair."
Each year in America, more than 5.4-million cases of non-melanoma skin cancer are treated in more than 3.3 million people, according to the Skin Cancer Foundation. About 90-percent of non-melanoma skin cancers– and 85-percent of melanoma cases– are associated with exposure to ultraviolet radiation from the sun.
The Foundation recommends that everyone practice monthly head-to-toe self-examination of their skin, so they can find any new or changing lesions that might be cancerous or precancerous. Skin cancers found and removed early are almost always curable.
"The first three years I saw either my dermatologist or the oncologist every six weeks," he said. "On April 22 he marked being clear for five years."
Dilts and his wife, Cinnamon– a staff member at RockPointe Church in Flower Mound– and their two teenage children get annual exams.
"I wear a hat and long sleeves when I'm outside," said Dilts. "I'm grateful that God spared me, because I want to be here for my family. However, I'm prepared to meet God someday because I'm saved by the sacrifice of his son Jesus. Anyone can have that assurance."
The American Cancer Society has released its annual statistics report for 2019, giving us even more reason to step up our sun-care routine.
This year's report found that skin cancer is still the most commonly diagnosed form of cancer in the U.S., and melanoma skin cancer diagnoses continue to rise. In 2019, new cases of melanoma are expected to increase by about 5.7 percent, from 91,270 new cases in 2018 to a projected estimate of 96,479 new cases in 2019.
The home page of the Skin Cancer Foundation, reads: "With the incidence of this disease reaching epidemic levels, we can't do this work alone. We need your help. May is Skin Cancer Awareness Month and the perfect time to get involved.
During May, the Skin Cancer Foundation's website (www.skincancer.org) is centered around the importance of early detection. Throughout the month, visit their blog for early detection tips for all ages.
The Foundation is kicking off its 2019 Destination: Healthy Skin mobile education program, travelling to 17 cities over the next three months, providing skin cancer information and free screenings. For $15, you can buy a mile on their journey and help support the program.
Sun Smart U provides educators with the resources they need to teach youth how to make sun-safe choices that are vital in preventing skin cancer.
"If you see something questionable, go get it checked," said Dilts. "Early detection is the key for survival."