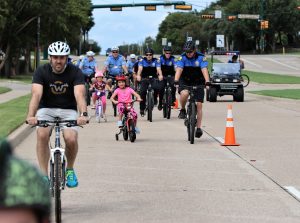 The Flower Mound Police Department's annual "Bike with the Blue" event has been rescheduled again.
The event — in which the community is invited to take a ride with the Flower Mound Police Department Sworn and Volunteer Bike Units — was originally scheduled for Saturday, May 11, but was rescheduled for this Saturday, May 18. However, the town of Flower Mound announced Wednesday that the event was rescheduled again for Sunday because of rainy weather in Saturday's forecast.
On May 19, participants will take an afternoon ride and meet FMPD Bike Unit members from 2-4 p.m. The ride with the officers will start and end in the FMPD parking lot, located at 4150 Kirkpatrick Lane, according to a news release from the town of Flower Mound. Participants will also have the opportunity to test their skills in either a beginner or advanced obstacle course in the parking lot, as well as receive bike safety checks and helmet fittings from officers and volunteers.