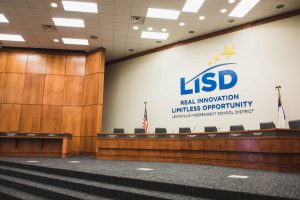 By Leopold Knopp, Contributing Writer
The Lewisville ISD Board of Trustees saw no changes from the May election cycle, and appropriately started the year with a business-as-usual meeting May 13. Only a handful of items were not monthly, annual or already approved in the 2017 bond election.
The biggest news is the approval of a total of $37.1 million in spending across four projects, with $31.7 million of that going toward a new multi-purpose indoor athletic center at Hebron High School. The other items include $5.1 million for renovations at The Colony High School, $237,508 for replacing playground equipment at Forest Vista Elementary and an estimated $155,000 for a new time and attendance system. All of these projects were approved in the 2017 bond package.
The $237,508 number for playground equipment was over budget by $34,460 – LISD CFO Mike Ball said there were unexpected drainage issues that drove the price up, but said the school district had enough money available to make it happen.
At the start of the meeting, the board hired three new principals for schools across the district, including Chad Russell for Flower Mound High School and Christine Van Scoyoc for Flower Mound Elementary.
The board also swore in freshly re-elected members Angie Cox, Katherine Sells and Jenny Proznik, each of whom was first elected in 2016. Cox and Proznik ran unopposed, and Sells beat newcomer Jake Collier with 63.04% of the vote.
Informational items included the board's monthly legislative update, the annual Lewisville Education Foundation update and the bi-annual demographer's report from Templeton Demographics' director of school district consulting Rocky Gardiner.
Gardiner described plateauing growth in Texas over the past five years. With about 32,000 new students enrolling in Texas schools last year compared to about 80,000 five years ago. Additionally, Gardiner said about 20,000 of those students enrolled in charter schools, meaning Texas ISDs only took in 12,000 new students last year. For LISD's part, the district has seen a net decrease of 583 students in the past five years, Gardiner said.
The board was also updated on the progress of the new Mill Street Elementary School. The new school is scheduled to open this year to replace the closing College Street Elementary in Lewisville, but construction was hampered by winter rains. Balfour Beatty Vice President Jon Moreau said that after accelerated construction efforts, almost all portions of the school are back on schedule, but the upstairs classroom area is not on track to be complete by the school start date Aug. 13. Moreau said the company was working on ways to compress that schedule further.
Among consent agenda items, the board approved a low attendance day waiver application for Flower Mound High School for Sept. 24, 2018. The day before, school administration had become aware of a SnapChat post potentially threatening violence at the school, fear of which caused attendance to drop to just under 75% that day, with 680 students reporting absent. Since school funding calculations are based on attendance, the district is requesting that day be excluded from the calculations.
The Lewisville ISD board of trustees meets monthly, usually the second Monday of every month, at 7 p.m. at the LISD Administrative Center in Lewisville, often with various informational sessions in between meetings. All meetings are open to the public. You can find a full schedule of meetings here.