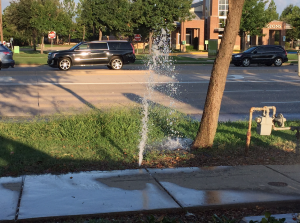 By Blake Alldredge, water education coordinator for the Upper Trinity Regional Water District
As summer approaches, outdoor watering of gardens and lawns may be necessary. Now is the time to check your sprinkler system to make sure it is working properly and efficiently. And, don't forget to sign up for weekly lawn watering recommendations from WaterMyYard.org to know when to water and when to wait.
Experts estimate that as much as half of water used for outdoor irrigation is wasted due to evaporation or runoff caused by inefficient irrigation methods and systems. The Texas A&M Irrigation Technology Program has found that one broken sprinkler head can waste up to 10 gallons per minute! Here are some easy steps that the Environmental Protection Agency WaterSense program recommends to check your sprinkler system: inspect, connect, direct and select.
Inspect. Turn on your sprinkler system for a few minutes to check for clogged, broken, or missing sprinkler heads. Better yet, find a nearby Recognized Green Professional to do the work for you by visiting https://savetarrantwater.azurewebsites.net/recognized-green-pros-2017.
Connect. Examine points where the sprinkler heads connect to pipes/hoses. If water is pooling in your landscape or you have large soggy areas, you could have a leak in your system. A leak as small as the tip of a ballpoint pen (1/32 of an inch) can waste about 6,300 gallons of water per month.
Direct. Are you watering the driveway, house, or sidewalk instead of your yard? Simply turn the nozzle by hand to redirect sprinklers to apply water only to the landscape.
Select. An improperly scheduled irrigation controller can waste a lot of water and money. Update your system's schedule with the seasons, or use the "Seasonal Adjustment" feature on your controller, if equipped. You can also take the guesswork out of scheduling by installing a WaterSense labeled controller. To learn more about WaterSense labeled products, visit https://www.epa.gov/watersense.
Residents living in a community that receives treated water from Upper Trinity can sign up to receive a free Sprinkler System Check-Up by a licensed irrigator! Simply fill out the online Request Form at bit.ly/UTRWDCHECKUP and you will be contacted to schedule your Check-Up.
Be sure to sign up for weekly lawn watering recommendations at WaterMyYard.org. Find videos and other resources on the Upper Trinity website at www.utrwd.com/conservation.html or call 972-219-1228.
Upper Trinity Regional Water District is a regional water conservation and reclamation district created in 1989 to provide water and wastewater services on a wholesale basis to cities and utilities in Denton County, and a portion of Collin County. For more information, visit www.utrwd.com.