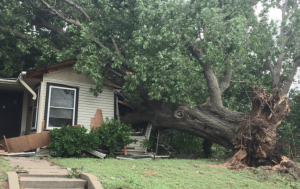 The National Weather Service confirmed Wednesday that two tornadoes affected Denton County during Tuesday night's stormy weather.
The weather service's Fort Worth office confirmed on social media that the two tornadoes were both EF1 with maximum winds of 90 mph.
The Denton tornado began near the Texas Woman's University campus and traveled northeast to near the Denton ISD Natatorium near Loop 288. Damage including downed trees and power lines.
The other tornado left about a 1-mile track east of Justin into Northlake, according to the Argyle Fire District. Damage was mostly confined to trees, according to the weather service.
We had TWO confirmed EF-1 tornadoes yesterday in Denton County. Winds in both were about 90s MPH and were only on the ground for a short time. One touched down near Texas Woman's University and the other in Justin. #dfwwx #wfaaweather pic.twitter.com/f2qJ46cvW7

— Pete Delkus (@wfaaweather) May 1, 2019