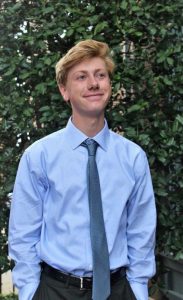 As the 2018 TAPPS State Champion, Preston Blakeley's passion for the sport of tennis is pretty clear.
The Liberty Christian senior said his love of the sport began in childhood and has carried over to what will become a college career.
"Tennis is not only more physically taxing than most believe, but it's also extremely mentally challenging," Blakeley said. "The individual nature of the sport forces the player to make split-second decisions that are significant to the outcome of the match; and, also challenges you to quickly adapt your game to the present situation, all the while keeping your composure. It's a great metaphor for life."
Blakeley, 18, is 22-2 in official TAPPS play since 2016, but he's also a strong scholar, carrying a 3.82 grade point average; and, an avid photographer as well.
The Lantana teen placed first in the ACSI Art competition for color photography and placed second at TAPPS state for photography during his junior year.
Blakeley said he has always felt obliged to do as much as he could during his time at Liberty.
"I have always wanted to make the most of my high school experience," Blakeley said. "A lot of different people living in various cultures across the globe don't have the ability or the freedom to chase after their personal goals as a teenager. I have never wanted to take that ability for granted. My education is a freedom given to me that I shall not neglect."
Blakeley has also led a weekly bible study classes during his tenure at LCS, traveled on several mission trips out-of-country and is involved in a middle school mentoring program called Impact.
Blakeley plans to attend Gordon College in Massachusetts, where he will continue to play tennis and major in History with a minor in Theology or Communications.
"After that, I plan to pursue my Ph.D. in History and become a professor at the university level," Blakeley said. "The subject of history contains seemingly endless narratives and story lines that never cease to amaze– and invade– the life of its students. It was this, along with the complexity of the subject that brought me to love studying the past. One of my previous teachers stewarded upon me this sage advice; 'the best historians are wonderful storytellers. If you want to succeed in my class, you must learn how to tell a story.'"
Blakeley's Favorites
Favorite Subject: History
Person who most inspires me: Cameron Blakeley (cousin who is a missionary in China)
Favorite Food: Seafood
Favorite Movie: Good Will Hunting
Favorite TV Show: The Office
Book Currently Reading: The Mayflower: A Story of Courage, Community, and War
Favorite musical group or performer: John Mayer