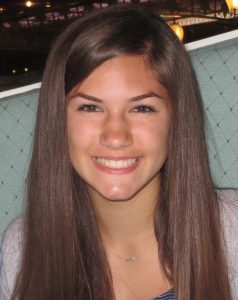 Madison O'Malley has a big heart.
The Flower Mound High School senior, a member of the National Honor Society and Student Council, said she has two great passions in her life; one of which she hopes to parlay into a career.
"Ever since I was a young kid, I have wanted to learn all I am able about animals," O'Malley said. "I have attended many camps and had the opportunity to volunteer over 200 hours at the Dallas Zoo; which has solidified and grown my passion for working with animals in a zoo or sanctuary setting."
O'Malley, 18, is a member of the Flower Mound High School Varsity Orchestra, plus serving as a kindness ambassador, and said that her second passion has become a part of her daily life in high school.
"I love working with kids," she said. "I babysit for several families and I am involved in several different ministries at my church (The Village Church), where I get to care for, mentor and just have fun with kids from birth to middle-school-age. I work with kids at least four nights a week, so it takes up a big chunk of my schedule, but I absolutely love it. Their joy, unconditional love and laughter are so sweet; and, I love getting to be a part of their lives."
The Flower Mound teen is also a member of the English Honor Society and Mu Alpha Theta, saying that being involved is important for her.
"I think it is really important to find your place in school– especially in a school like FMHS– that has so many students," O'Malley said. "Finding extracurricular activities that interest you and surrounding yourself with people who have similar goals is really helpful. For me, my activities have allowed me to spend time with friends, create music, and develop leadership. These activities have helped supplement what I get from my core academics."
O'Malley said that one of the biggest challenges she has had to overcome throughout her time at Flower Mound, is learning how to interact with and relate to others.
"Through various highs and lows, I have learned about areas of growth in my relational tendencies," O'Malley said. "Through these experiences, I have grown more self-aware and become thankful for how I am uniquely wired, which has allowed me to be a better, more dependable friend. Different relationships in high school can be difficult and hurtful at times, but it is so important to know how to show grace and humbly own your mistakes. Ultimately, I know my identity is in Christ and I can rest in that despite the changing relationships around me."
O'Malley carries a 3.9 grade point average at Flower Mound High School, and is ranked 40 in her graduating class of 908 students.
She plans to attend Texas A&M University in the fall and major in Wildlife Ecology.
O'Malley's Favorites
Favorite subject: Math
Person who most inspires you: Steve Irwin
Favorite food: Pasta
Favorite movie: Sound of Music
Favorite TV show: Friends/The Office
Last book read: Brave New World
Favorite musical group or performer: John Mayer