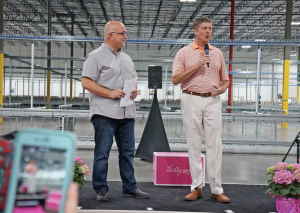 Thirty-One Gifts, a direct-sales totes and accessories company, cut the ribbon Wednesday on the first shipment of boxes at its new national distribution center in Flower Mound.
Once the company's hiring process is complete, Thirty-One will be Flower Mound's second-largest private employer, with more than 650 employees, according to a news release from the town of Flower Mound. Thirty-One chose Flower Mound due to the area's quality workforce, lower transportation costs, proximity to the airport and great community.
The new 651,000-square foot facility will provide the capacity for them to double their sales and Flower Mound will receive the sales tax on any Thirty-One Gifts purchase sourced in Texas. The distribution center is located in the Lakeside Business District, 951 South Garden Ridge Blvd., which formerly served as the Kohler distribution center.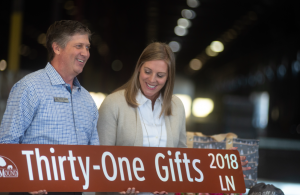 The company, which remains headquartered in Columbus, Ohio, announced the purchase of the facility in November, and has spent the past five months renovating the building, installing equipment and hiring employees. The company aims to be processing all orders out of Flower Mound by July.
Thirty-One Gifts started in Chattanooga, Tennessee, in 2003. The company — which uses a network of approximately 60,000 independent sales consultants to sell totes, handbags, luggage, backpacks and other accessories — has grown significantly during the past 10 years to become one of the world's premier direct sales companies.