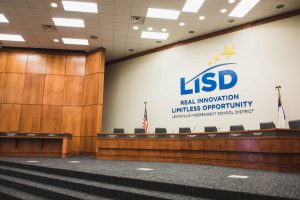 By Leopold Knopp, Contributing Writer
The Lewisville ISD's April 15 trustee meeting was filled with new installments in years-long issues. The board passed a resolution calling for the state legislature to re-evaluate the STAAR test, a test which board members have spoken out against regularly for years now, and approved more than $11 million of spending on new iPads, an issue that has drawn community concern since the first time the devices were brought in to schools.
The board passed a resolution requesting that the state legislature re-evaluate the STAAR test and not enforce any negative consequences for the test while it is being audited, which would effectively take the teeth out of this year's tests. Multiple bills affecting the STAAR exam have been filed, including one that calls for a two-year moratorium on the exam. LISD's resolution, as well as many of these bills, cite multiple studies that show the STAAR reading and writing tests are routinely above the grade-level they are being assigned to, which raises concerns about their validity as a tool for measuring student progress.
The STAAR is the latest in a line of high-stakes tests that have been used to measure school performance since the 1980s. In Texas, school funding is tied to this performance – schools and teachers whose students show marked progress on these tests are perceived to be doing a better job, and funding is distributed based on those results. Additionally, high school students must pass the STAAR test to graduate. The importance of STAAR tests and others like it has led to these tests dictating entire school apparatus, from curricula to textbooks to school schedules. There are several long-running concerns attached to this setup, including that it limits student learning by incentivizing teachers to only teach what's on the test, and that basing things on singular high-stakes tests creates equity issues for children with learning disabilities or who otherwise aren't good test-takers.
Those concerns are present even if the STAAR test is working properly, and it hasn't been. In 2016, Lewisville ISD spent $5,000 to double-check many students' STAAR grades and found that about a fifth of them had been mis-graded.
The resolution was passed with barely any discussion and wasn't even read aloud at the meeting. Various members of the school board have spoken out against the state's grading system and the STAAR test in particular several times over the years. You can read the full two-page resolution here.
There was much more contention around the approval of $11.8 million in 2017 bond money to be put toward new iPads for grades 7-9, with board president Angie Cox and member Tracy Scott Miller eventually voting against the measure.
The expenditure will, over a two-year period, equip seventh, eighth and ninth grade students with the new iPad Air 10.5" and pre-kindergarten-third grade classrooms with seven iPad 9.7" devices each, all of which would have keyboards integrated into their device protectors. The 9.7s and keyboards were the issue. Cox said she thinks the younger students would be better served by a classroom set. Board member Jenny Proznik, who did vote for the measure, raised concerns about the whether or not the keyboards would be useful.
Miller said that to him, it was still unclear whether or not access to iPads are measurably helping students.
"It's still unclear to me as to how this is showing, relative to other districts, that our student performance is greater than those districts who don't provide devices to go home," he said. "For me, this is a principle issue where we have some of the same questions that remain open that we had in June of 2014."
LISD's executive director of network and technology services Bryon Kolbeck, who handles most technology-related items, said that according to data LISD collects from its iPads, younger students actually use their devices more, and more often for educational purposes, than older students.
Access to tablet devices has long been a contentious issue within the school district. LISD was one of the fastest districts in the nation to purchase iPads en masse as a teaching tool soon after the technology was released, and there were large-scale concerns about how the district would ensure the devices were used for educational and not recreational purposes. No one who made those decisions still sits on the board, but at Monday's meeting, superintendent Kevin Rogers said technology access was an equity issue, describing it as "the great equalizer" for poorer students. He also said that LISD is on the cutting edge of technology that tracks what the devices are used for, tying back into community concerns.
In other business, the board approved a guaranteed maximum price of $53.5 million for the new Hedrick Middle School in Lewisville, funding for which is provided in the 2017 bond package. Before the board took action, in information items, the board heard again from Balfour Beatty Construction operations director Darren Lee. This is the second straight month a representative from the company has updated the board on the construction of Mill Street Elementary in Lewisville. Last month it was significantly behind schedule, but Lee said they'd made up about an extra week's worth of progress since then due to favorable weather. He said they were on target to open by the middle of August.
School starts Aug. 13, and Lee said meeting that deadline is dependent on the weather holding out.
Finally, the board formally approved joint election contracts with Denton and Tarrant counties to hold the May 4 election. Cox, Proznik and board secretary Katherine Sells are up for re-election this year – Cox and Proznik are running unopposed, while Sells is challenged by Lewisville businessman Jake Collier.
The LISD Board of Trustees meets monthly, usually on the second Monday of each month, at 7 p.m. in the LISD Administration Building in Lewisville, often with several informational sessions in between. A full schedule can be found here. These meetings are all open to the public.