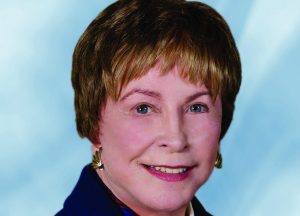 Submitted by Copper Canyon Mayor Sue Tejml
RON: (From a Letter drafted about the FM 407 Town Center that he had read into the Council Minutes March 11, 2019, as he was not present.) "A zoning decision should be based on the highest and best use of the land and the highest and best outcome for the town, not for boosting the town coffers. The proceeds from residential ad valorem taxes is not enough to run a city.  Commercial development should be pursued."
MAYOR SUE:  Copper Canyon has been financially blessed with ONLY residential property taxes since its incorporation in 1973 (46 years ago) and had the same low tax rate for the last SIX years – .2975.  The town has a Standard and Poor's rating of AA+ -, an incredible fiscal rating for a very small town of only 1500 people.  Every year for 14 years we have underspent our Annual Budget and rolled those unspent funds into our Road or Crime Prevention Funds.
Last year our Council unanimously removed commercial zoning from the Town Center south of FM 407 in favor of an all quality home development there.  Our Financial Officer Steve Hill's 10-20 year financial Pro Forma forecast concluded that the property taxes from those new homes would allow the Town north of FM 407 to remain rural with large residential lots and no significant property tax increase!
RON: "I have been a part of hundreds of zoning and amendment changes in my 21 years as an elected official and I have never seen this type of meeting where zoning is being customized to meet the needs of a developer."
MAYOR SUE: What a joke! Ron personally gave away Bartonville's revenue in favor of a Developer for an unheard of NINETY YEARS!?!  The Developer pays NO PROPERTY TAXES to the Town!
And for the first 12 years, the Developer gets SEVENTY-FIVE % of the sales taxes!?!  The next Bartonville Mayor and Council had to go to the State to try to rectify this mess!
RON: "I can also say that I have never knowingly been a part of a process that was in direct conflict with the law."
MAYOR SUE:  Ron then bases his accusation that the Council is doing an illegal act, by quoting a section of a Copper Canyon Ordinance that had been REPEALED!
RON: "The Texas Local Government Code does not prohibit holding Joint Meetings of the P&Z and Council, BUT, nowhere does it recommend that joint meetings be held."
MAYOR SUE:  Our Town Attorney sent a Legal Memo to P&Z and Council advising them that they had done NOTHING ILLEGAL!  And he commented that it would be highly unusual for the State to specifically allow joint meetings of P&Z and Council, if the State did not approve of them !?!
RON:  I respectfully request that the Council slow down, send this back to P&Z to hold their separate public hearing, as they should, then council members, you can do your job."
MAYOR SUE:  Ron is at least 3 months behind official events.  But though he has lived in Copper Canyon 2 and a half years, he never attended a Council Meeting until this February.  After SEVEN months of Council Meetings and lengthy Public Input, P&Z voted 4-1 and Council voted unanimously 5-0 to approve the Toll Brothers all home project south of FM 407.
For a man who brags on his 21 years in Municipal Government, his ignorance of the law is almost laughable.  But, the liability he exposes our Town to is not.
The State understandably gives a Developer a "vested interest" in a project once it has final approval by a Town Council.  The Developer then proceeds with the expense of all the details of a development project – surveys; mapping detailed plats with streets, lot lines, utilities, green space; elevation maps to lay out drainage for storm water runoff; contracting with earth moving equipment; drilling deep water wells to maintain constant level fire suppression ponds.
The State does not allow a Town or City to arbitrarily "change its mind" after officially approving the Development. That act would risk legal liability for Town.
RON: Accuses the Town of excessive engineering costs.
MAYOR SUE:  The quality of our Town Engineers is the basis for the County funding $14 million to rebuild Copper Canyon's perimeter commuter roads in concrete! Copper Canyon Road, Orchid Hill Lane, Chinn Chapel Road. Town Engineers brought Orchid Hill in "ahead of schedule" and "under budget."  We "gave back" to the County $1.026 million dollars of road funds for Orchid Hill!
RON:  Says the Town has excessive legal fees.
MAYOR SUE:  Ron spent $180,000 in lawsuit to block Cross Timbers Water from erecting an elevated water tower in Bartonville to provide fire suppression water for the entire water district.  Including the towns of Bartonville, Copper Canyon, Double Oak and unincorporated County areas like Canyon Oaks!  This is a safety issue for thousands of people!
Toll Brothers had to increase its density of homes in Vickery Park to offset the resultant excessive cost for fire suppression with no active fire hydrants!
With a moratorium on fire hydrants, Toll Brothers had to agree to sprinkle every home (costing several extra thousands of dollars per home); provide two constant level ponds supported by drilling a deep water well; and partially pay for the extra Argyle Fire District fire suppression equipment of a truck, trailer holding mile and a half of extra hose, and two high density pumps for drafting fire suppression water from the two constant level ponds.
In the last 14 years, the Town has never sued any person or entity.  And only been sued once, which settled without a court hearing to the advantage of both the Town and the landowner.
As a former City Attorney for 6 years to a Texas Town of 20,000 population, I consider this absolutely "sterling" legal advice!
RON: Publicly apologizes to Copper Canyon Council for mistakenly accusing it of an illegal act at April 8th Council Meeting –Verbatim apology is in the Minutes.