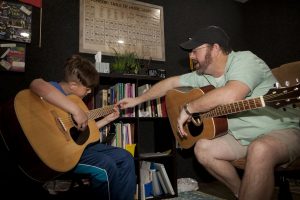 The Music Academy started off with a simple idea of providing top quality music instruction, in a professional studio environment, to encourage each student to pursue a dream of, "making a "lifetime of music," said Scott Himel, founder and owner of The Academy.
Actually, the genesis of the Academy dates back to 1996, more than 22 years ago, with a call from Rodney Haire, founder and then president of Liberty Christian School (LCS) to Himel.
"I was close to finishing my degree from The University of North Texas and had entertained the traditional route of job-hunting, when Rodney invited me to teach music at his school," said Himel.  "I literally laughed at the idea of being a classroom teacher, but I reasoned that it could be a good 'fall back plan,' while pursuing my music career.
For his first week of teaching, Himel remembers walking into a classroom full of eager and excited kids that just came out of lunch and recess.
"They were not musicians," he laughed. "They were sweaty, stinky kids with gigantic noise-makers they called 'instruments.'"
He added that it was not the job description he'd imagined, but confessed it was the first day he fell in love with teaching: "That was it, I was hooked."
During his tenure with LCS, he accumulated eight State Championships and was honored as Fine Arts Teacher of the Year for 2015.
Today, the Music Academy has more than 20 teachers and are able to match the best teacher for each student's personality, age, experience and learning style. Current students range from three-years-old to many students in their 60's and 70's.
Himel recently opened his fourth Music Academy in Argyle at the Settler's Center, 306 Hwy 377.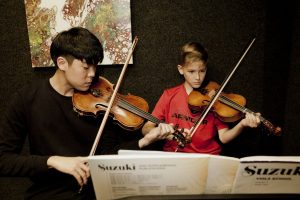 "Our focus on teaching for each student's success is based on three key components– professionally-degreed teachers; in-stock curriculum materials; flexible schedules; and, month-to-month payment options," said Himel.
A student's preference is key, so The Academy offers private lessons, family classes, group classes, homeschool band, garage bands, music theatre, as well as concert, marching and jazz band.
He added that involving a student's family is also an important factor.
"We firmly believe that parents and teachers working together will ensure a child's success in music," said Himel. "We invite them into the classroom any time for easy communication."
Multiple performances are offered each semester to show-off skills to friends and family. Recitals and concerts are held year 'round, instead of only once or twice a year. Participation in music festivals, competitions and workshops are also available.
"We also host and participate in several festivals to provide the opportunity to be exposed to many different venues," said Himel.
The Garage Band program is designed to give students an opportunity to play modern music in an ensemble setting. The Garage Band students are trained how to properly use musical equipment in a traditional rock, pop, country or jazz band setting. They are taught the basics of stage performance and recording techniques through multiple programs in which they will "gig" and spend time in a recording studio.
"The goal of our Garage Band program– like all our programs– is to build each musician's confidence in performing," said Himel.
All of The Academy's instructors are degreed and professionally-trained musicians.
"Yes, there are some amazing performing musicians all around us, but I only hire those who are true teachers … who love to get on the floor with kids and build them from the ground up. We are professional kids at heart. We are teachers.  We are musicians that love this amazing world of music and truly love sharing it with our students."
The Academy invites everyone to make some noise and enjoy the music together at one of its four North Texas campus locations in Argyle, Corinth, Crossroads and Castle Hills.
That invitation is available during free morning, afternoon or full-day Summer Camps, June 18-21, at all locations. All Music Theater and Garage Band Camps that week are free for all Academy students to experience. The camps are open for beginner to advanced students, ages 8 and up.
For information about the camps, visit: www.musicacademydfw.com, [email protected], or call: 940-468-ROCK (7625).