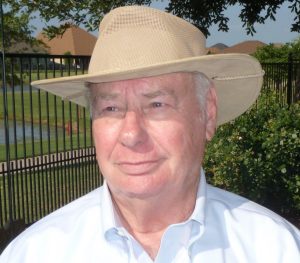 The election of the next Denton City Council District #3 will take place Saturday May 4th, with early voting starting April 22nd.  Robson Ranch will vote in the Robson Ranch Clubhouse for both early voting and Election Day.  This is the only item on the ballot and will take no more than 10 minutes to vote.  No excuse not to vote!!!
This is an important election.  How your tax money will be spent depends on who you elect.  I have been on the City Council for the last year and know the other six members of the City Council very well.  All six will be on the next City Council.
Important decisions have passed 4 to 3.  Since I will not be there and Jesse Davis is not elected those important decisions may be 4 to 3 against.  (Examples: Tyson Distribution Center and Hunter Cole Ranches development).
Information on Davis' campaign and upcoming events can be found at jessefordenton.com or facebook.com/jessefordenton.
Robson Ranch Rambler
By Larry Varnes, Vice President, Resident Director, Robson Ranch HOA
The weather is still a little crazy, but spring is officially here.  Spring brings comfortable temperatures. The grass begins to green, Vibrant buds are starting to display on our trees.  Life is good at Robson Ranch.
With spring comes spring cleaning.  Whether it is house cleaning or cleaning up the yard, spring is a time to refresh in anticipation of fun times to come.  Such is the case at the Wildhorse Golf Club here at Robson Ranch.  Don't let the gate scare you away, attendants are there to give you a big howdy and directions to the Proshop. And yes, the 18 hole Wildhorse Golf Club is open to the public though it feels like a country club.
We have two PGA trained golf instructors at the Wildhorse Golf Club to help with cleaning up your game after getting a little rusty over the wet winter.  The next two issues of the Robson Rambler byline will focus on improving your golf game.  They are written by the vary pros who are here to help you improve your game.
Our first "Tip from the Pro" comes from Tyler Clark, PGA Associate:
Practice makes perfect, Right? One of the biggest factors in why golfers do not get better is the way they practice. An old adage I hear a lot is "practice makes perfect."  Actually, I'm a believer in practice makes permanent and how practice takes place can make or break success.  I see golfers on the range everyday practicing improperly.  With no structure and no goals, improvement can be almost impossible to achieve.  An example, golfer A buys a bucket of balls, walks down to the range, and just starts hitting balls rapidly until they are gone.  That person didn't get better, it is more likely they got worse by instilling poor fundamentals and habits.  This person's muscle memory is recording all of these poor swings.  This is why golfers don't improve as quickly and by wider margins.  The way this golfer can improve is to get feedback.  Feedback comes in many forms, but I like simple.   Consult your local PGA professional, use video, alignment tools, and understand ball flights.  If golfers know that the "Clubface sends it, and the Path bends it", they can look for corrections on video with a professional and make the proper adjustments to get better.  I use a program called V1Pro Coaching Software.  This allows the student to see what they are doing properly or poorly.  After the lesson I build a video tailored for them to study before, during, and after each practice.  In that video I may encourage them to use a pre-shot routine for each range ball to mimic a real golf shot, I will also remind them of fundamental keys and drills to promote improvement.  I hope this paints a good picture on how golfer A may improve his/her practice.  Avoid going to the range and slapping balls at machine gun pace.  Instead, develop a proper warm-up; create deliberate thoughtful practice with a purpose and clear simple goals.   Then strike each golf ball with purpose, take a look at feedback, and begin to make subtle adjustments.  I hope this helps every skill level golfer out there get better in 2019.  Make this the year you practice with a purpose and actually get better!
Please think about joining us at Robson Ranch just down the road from Exit 79 off of 35W. Meet with one of our teaching pros or just play a round or two of golf.  Also be sure to check out the Wildhorse Grill which is also open to the public and offers exceptional cuisine.  We hope to see you soon!